August 25, 2015
Online Courses For Affiliate Marketing- Why Pay Thousands To Go To School?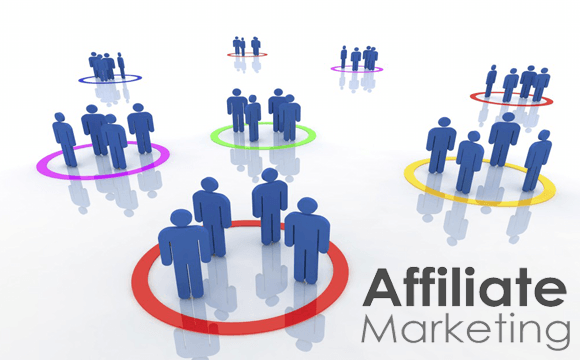 You've just graduated from high school. Or maybe you decided you want a change in careers. You hear all the time about people making money online. So you decide to ask. How do you do it? What's your secret to making money on the internet? Their simple reply, "I do affiliate marketing."
Okay, that's awesome. Now you know where to start. Of course, you probably have no idea how to get started. Maybe you have never even really used the internet before, other than buying something on Amazon. So you turn to your best friend Google for the answer. You decide you want to find some school to attend. Problem is, it can cost you thousands of dollars to do it. Hence, this is why so many people have student loans that take years to pay off.
So now you are in a dilemma. How can you afford this? The answer is simple. You will look for cheap online courses for affiliate marketing. Usually, it's cheaper to just do courses online anyways, right? At least compared to a traditional school. Okay, so now you need to figure out what's affordable, and obviously which one is the best training with the best value. Besides why pay thousands when I can help direct you to the best place in the world? If you are unsure what exactly affiliate marketing is; You can click here to check out my post that explains it a little bit.
---
Advantages of Affiliate marketing
OK, so if you have made it to this point, hopefully you understand what affiliate marketing is. If you still don't, in a nutshell, you are basically promoting other people's products and getting paid a commission for it. Many marketers do this for a full time living, and if some school teacher tells you they know how to do it successfully; then you should be asking them,"So why are you teaching it then? If you know how to do it so well, why are you not doing it yourself?" This is the problem with many traditional schools. They claim they know how to do it and charge thousands for the courses, but they all typically had little success. Anyways, there are tons of advantages to affiliate marketing.
You get to choose what you want to promote
You work your own schedule
You are your own Boss of the business
You don't have to create your own product (Many people cringe at making one)
You don't have to deal with customer complaints
You don't have to handle inventory
You can make a full time living doing this
Once established, you can make money while you sleep
Freedom to vacation when you want to
These are just a few of the advantages, there are so much more to it than that. So, now I'm sure you can see why many people enjoy working from home. It gives them the freedom to spend more time with their families. Working that 9-5 job (just over broke) doesn't cut it. It only provides the means of surviving but not living a good life. We all want to do better for ourselves, and that is why you are here today.
---
A Course That Charges A Thousand Dollars For Six Weeks Of Learning Is A Rip Off
Why do I say this? Even if is say… $300  dollars; it would still be a rip off. Like I said. A lot of teachers aren't teaching affiliate marketing correctly or they would be doing it themselves. They should at least be able to show you some of their work. If you were to spend a thousand dollars for a six week course, I could give you, in comparison
Almost A Three Year Membership,
Thousands Of Different Training Modules
Free Web Hosting

Free Websites To Build With
Unlimited Access To Expert Affiliate Marketers That Are Making A Full Time Living With This Program
Some of these affiliate marketers are even making a million. If you want to learn to succeed, you need to learn from the best. So, think about it. You are getting one thousand times more value with what I will offer than some six week course. The six week course doesn't even really provide much of anything I said I can offer. All of the information charged at an outrageous price will always be found at a lower price, if you do your research. Even if you don't join the program that I use, you can still learn with similar programs. Though, I will be bias and argue that I don't know of a better program out there.
---
Welcome To Wealthy Affiliate University
This is hands down the greatest program I have run into. There are over 100,000 people active in the community that will agree with what I am saying. I started out with no knowledge of what affiliate marketing is, as well as, no knowledge on how to make money online. I researched and researched and ran into a lot of scams that tainted people's minds with thoughts of making thousands tomorrow with little effort today. They almost consumed me too.
Luckily, I prevailed and found this opportunity. The thing about scams are, they won't give you any information about the program and what you would learn until after you pay some upfront cost. The only thing they state is the program works and you will make a lot of money off of it. Well, Wealthy Affiliate is different. Not only do they deliver what they promise, they also let you get started for free without the need of a credit card. They give you training for free and teach you how to build two free websites. No, not all the training is free, but you will get twenty free lessons. ten lessons on how to turn your passion into a full time income, and ten lessons on how to promote Wealthy affiliate, if you are unsure what passion you want to make a website for. You'll learn:
Search Engine Optimization

Email Marketing,
Social Media Marketing
And so Much More.
On top of that gaining one-on-one access to experts that have been doing this for years. This is the only place like that, and if you are serious you can start now. It doesn't matter what your technical background is. I went from being a store manager at a Domino's Pizza to jumping here. Click here to read my story. I knew nothing about what was taught here. Now, I know how to build a website (It only takes 30 seconds). I also know how to rank on the top pages of Google, without paying for traffic. I've obviously learned a lot more than that, but I just wanted to give some examples for you.
---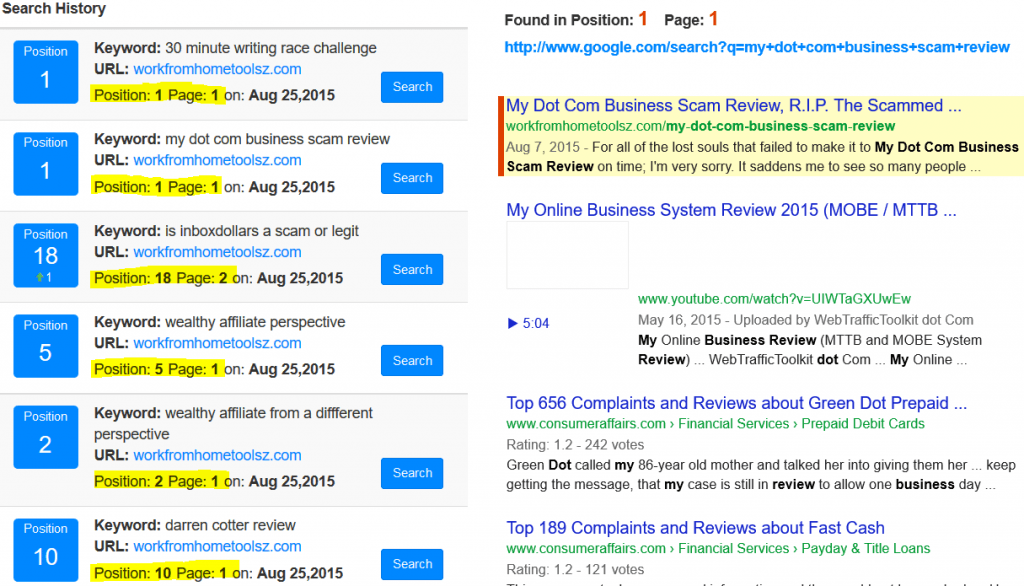 ---
Wealthy Affiliate Testimonials
Now, obviously everyone likes to hear what other people think about a program. Why take my word for it? I'm the one promoting it. I understand that. So I took some screenshots from within the WA community of people's testimonials. Feel free to read all of them here, there's a lot.
---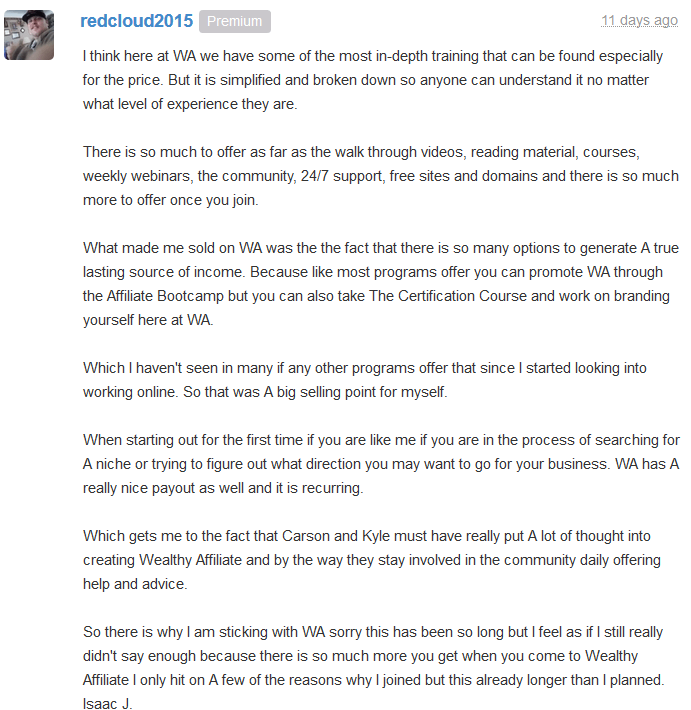 ---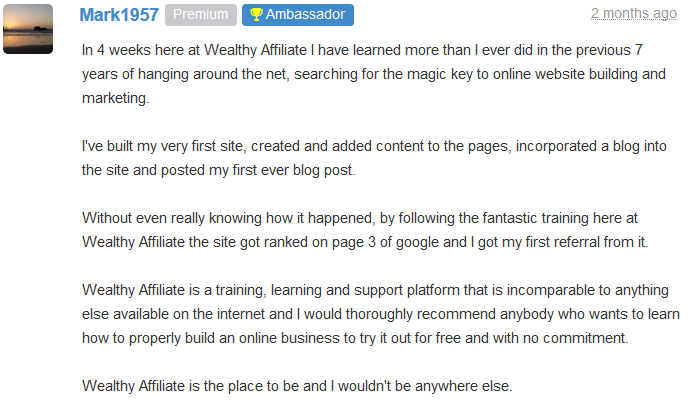 ---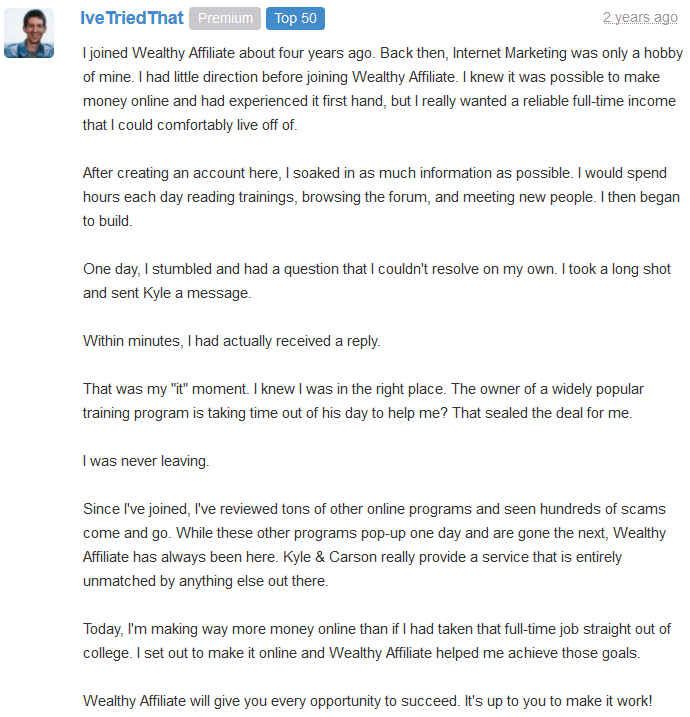 ---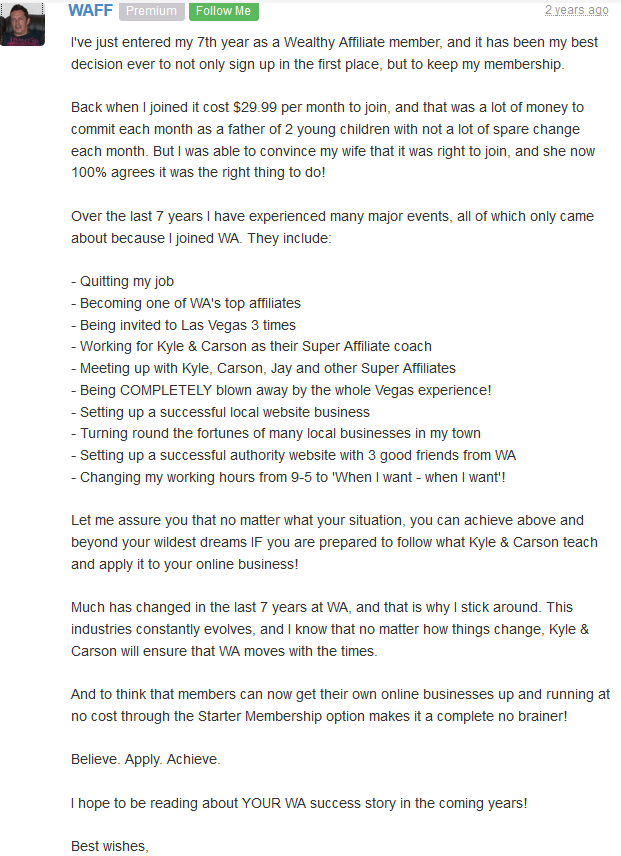 ---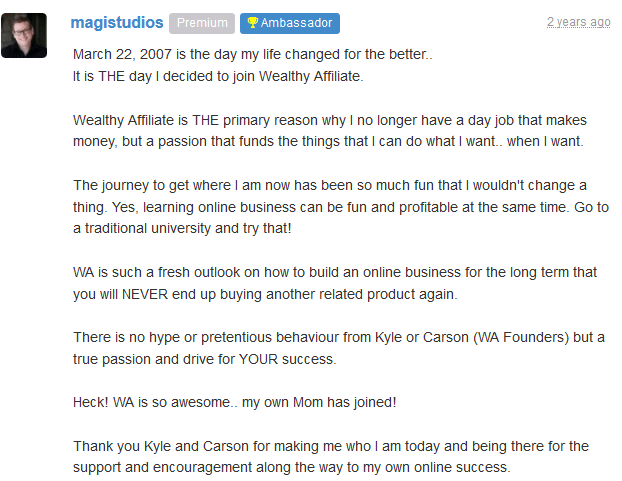 ---
As you can see, between newer members and the ones that have been hear for years; All of the members that have joined, all agreed that this place is the best of its kind. Unmatched by no other. Many have come here and created a tons of success. Anybody can do it. These testimonials are all legitimate and you will find them in the link above.
---
Cost For The Access To These Online Courses And Community
So you understand it's free to get started, right? But what about the paid membership? The great thing about this program is there are no up-sells. You either use the free membership, or you use the paid membership. The cost is $49 dollars per month. If you upgraded to yearly, it would only cost $360 dollars per year. That's 98 cents a day. To put this in perspective of the value. If you supposedly already knew everything and didn't need training; you would benefit from just having access to expert internet marketers alone that do this for a full time living. Just remember, you need to put in the work to get the results. You can think of the program as a university where you will "Earn while you learn."
---
So, Once Again. Why Pay Thousands, To Go To School?
Online courses for affiliate marketing can be and are provided at much more reasonable prices. Though, you will not find a better value for a lower price. You can keep looking if you want. Most online programs will at least constantly up-sell you, if not scam you. Here, you can test it out before you even pay a penny. You don't even have to surrender your credit card. It's the same thing when you purchase a car. You test drive it first, before you buy it. Now, I do want you do something first. Check out my full extensive review of Wealthy Affiliate University, before you sign up. I don't want you to just jump the gun, but I do want you to at least give the program a test drive. You will never know what you missed, unless you try it out yourself.
Questions and Concerns?
Has this article been helpful for you? Have you tried out any online courses before and paid way to much for them? Have you been scammed in your search for money making opportunities online? Please leave comments and questions below. I would love to hear your opinions on traditional schools versus taking these online courses. I feel they are worth it. What about you? $360 dollars is much cheaper than paying for a brick and mortar type of business every year. For personal inquiries, feel free to contact me here.
Best Regards in your journey to online success,
Brandon