July 25, 2019
21 Top Benefits of Affiliate Marketing For the Affiliate in 2019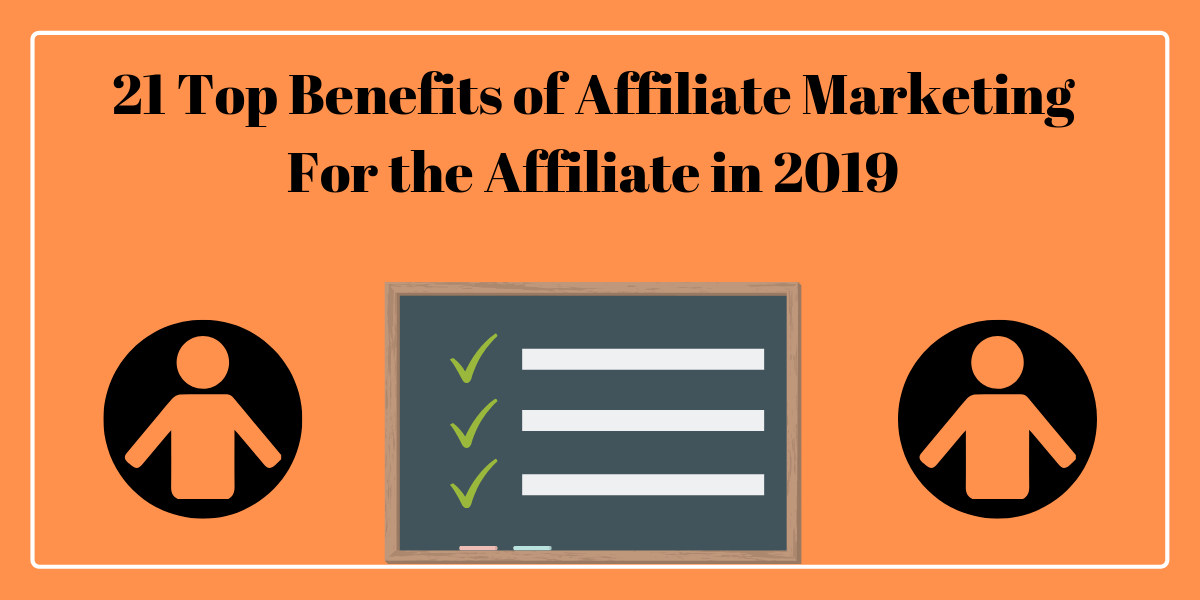 If you have ever considered making money online then you might have heard of the term "Affiliate Marketing". This is considered as one of the best methods to earn a full time income online.
But why is this such a great opportunity?
What are the advantages to affiliate marketing, and is it for you?
In this article I will show you the 21 top benefits of affiliate marketing for the affiliate (you).
I'm going to show you the perks you can get out of it and help you decide if this is a method that you would like learn to create an online income or supplement an income you already have.
I will also show you where to get started if you decide this is a great opportunity.
So What is Affiliate Marketing?
If you are reading this you may already know what affiliate marketing is. But for those that don't I just wanted to quickly touch base on the meaning.
In short, affiliate marketing is the process of promoting other people's products in exchange for a commission. A few of the ways you can get paid are:
Pay Per Click- You earn money by the amount of people you direct to the advertiser's website.
Pay Per Lead- You get paid anytime a visitor gives his/her contact info on the advertiser's website.
Pay Per Sale- You earn a percentage of the sale anytime a visitor completes a purchase on the advertiser's website.
Many brands have affiliate programs that are free to join. After joining, you will receive a referral link you can use to promote these products and services.
There is no extra cost to the visitor using your affiliate links to make a purchase and is a great way to earn an online income.
So ya, you promote the company's products, visitors click on your affiliate/referral link, and you earn money once the required action is completed.
That is how affiliate marketing works in a nutshell.
So, What are The Benefits of Affiliate Marketing?
Now that you know what affiliate marketing is we can dive into what the advantages are to being an affiliate marketer.
#1. You Don't Need to Create Your Own Product
Creating your own product can be quite lucrative and is something you will want to consider later on. In the beginning though, creating your own product takes a lot of time, effort, and money to get it on the market.
You need to have great customer service, and there is no guarantee your product will make sales after investing your time and money.
Affiliate marketing allows you to skip this step and choose already made products that have already proven they sell.
#2. You Don't Need to Manage Inventory
Managing inventory can be costly between buying products, storage, and shipping once sold. There's always the chance you get damaged goods and have to take a loss. On top of that, if you are not able to make sales now you just have useless stuff collecting dust and you take a big financial loss this way as well.
#3. Can work Anywhere in the World
Currently I'm spending a few months in Cambodia. Before that I was in Vietnam for six months. Where I'll go after I'm not sure. My dream has been to travel the world. So, I decided I would start in Asia. Affiliate Marketing is what has allowed me to be able to move around freely. If I want to work on a beach while sipping Margaritas I can do that. As my money increases I will travel to more extravagant locations.
#4. All Ages are Welcome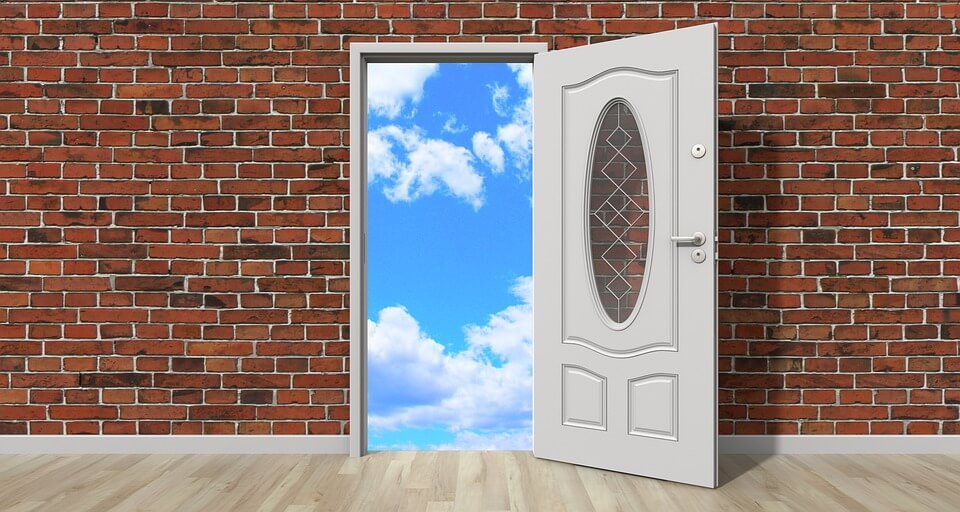 Are you 65 years old, retired, and trying to find a supplemental income to your social security check? Are you a student in college still trying to figure which out path you want to walk? Or maybe you are a stay at home mom or dad that wants to keep it that way so you are looking for ways to earn an online income.
It doesn't matter how young or old you are. As long as you are open to learning new skills and taking action you can become an affiliate marketer.
#5. Affiliate Marketing is a Multi-billion Dollar Business
Affiliate marketing is growing rapidly every year and more and more business are investing in affiliate programs to help with their marketing needs. In fact, 81% of brands rely on affiliate marketing. This goes to show you you only need to get a very very small slice of the pie to earn a great income.
#6. Affordable Low Cost Business Opportunity
Technically you can get started for free. You just need a free website to build your business on.  Being realistic, you are building a business which means you should expect some cost to get started. let me break down the cost for starting.
Domain Name ($10-15)- The domain name is the address for your business
Web Hosting (Starting $4 a month)-  Web Hosting is the virtual store front for your business.
Affiliate Marketing Training ( $360 a year)- If you haven't made your first dollar yet, you will want to invest in training that will teach you how to earn a full time income. Wealthy Affiliate is the training program I've used for the last four years and is all inclusive. The only other purchase necessary to start would be the domain name.
If you do your own research for learning you can start an affiliate marketing business for under $100 a year. Invest in the training and you are looking at under $400 for your first year in business.
Of course, once you start gaining traffic and start earning an income you will want to invest in other tools for social media, email marketing, pay per click advertising, etc… But this isn't necessary when you are starting out making this an affordable business opportunity for anyone that wants to start.
#7. The Money You Make is Based Solely on Your Effort
You are not getting paid an hourly wage or salary. You don't need to rely on others to earn. The only factor for your income potential is how hard you are willing to work.
The bigger the effort you put forth, the higher the paycheck will become. Just remember, even with a huge effort you still have to be patient. You can't go from zero to hero overnight.
#8. You Can make A LOT of Money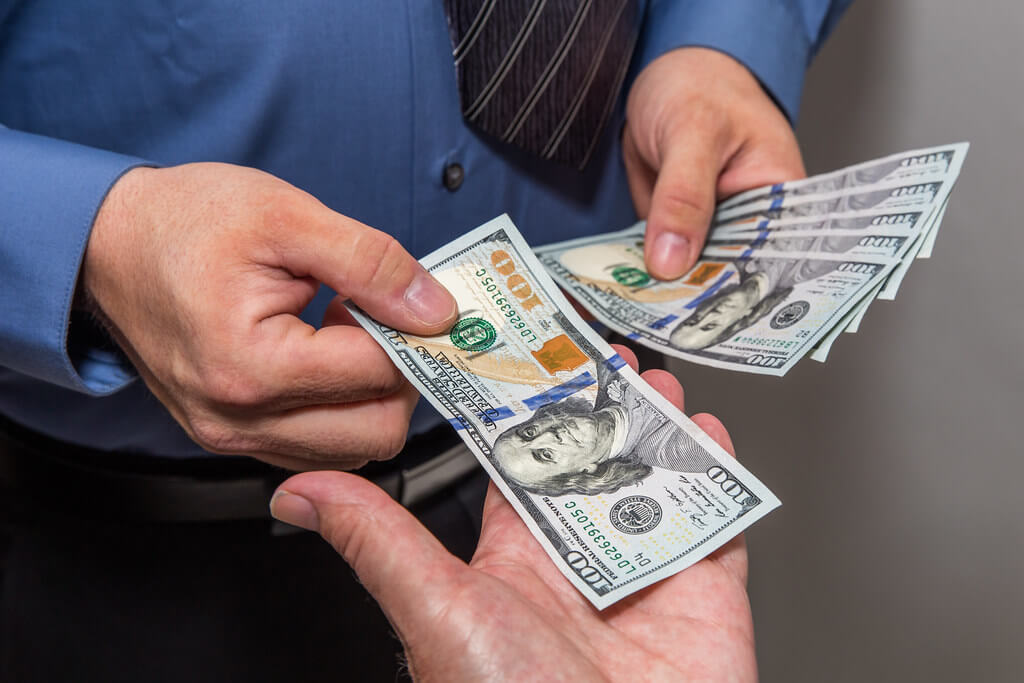 Too be honest I'm not in this category yet, partially due to my laziness. But I do earn a monthly income, and have even sold one of my websites on Flippa. Don't be lazy like me and the sky's the limit.
Once you learn and apply the knowledge to build an income generating affiliate business, it's all about repetition afterwards. You can start as a one man team and once you are earning enough start scaling by outsourcing the minuscule task so you can focus on making even more money.
There are millions and millions of products you can promote, so the opportunity is endless and the more you scale the bigger your ceiling becomes.
#9. You Don't Have to be an Expert When You Start
The reason blogs are so popular is because people want to know what other ordinary people think. They don't go straight to the company's website. They want to know beforehand if they are going to make a good purchase. So they read various blogs to get other's opinions.
One extreme example of this would be Ryan Toys Review. This is a 7 year old's YouTube channel that reviews kids toys with excitement and enthusiasm who earned 22 million dollars in a year.
You probably won't make 22 million in a year, but you can bet people will value your opinion as long as it's done ethically.
#10. You Control All Aspects of the Business
This is your business. So how you approach it is your choice.
You choose the products you want to promote.
You choose the content you want to create.
You choose the marketing methods you want to use.
You choose the design of your business.
You choose the hours you want to work.
You choose the people if you decide to outsource work.
You control the deadlines, scheduling, etc…
The only one that can make your business fail is yourself. There really isn't much more freedom than this. Wouldn't you agree? Let me know in the comments.
#11. You Don't Need to Create Your Own Marketing Material
When you sign up for an affiliate program you are provided the marketing tools you need for your promotion campaigns.
If you have success the company profits too. It's a win-win. So it's vital to provide you with marketing material that will attract your audience to make a purchase.
#12. Customer Support isn't Your Problem
I've worked in the hospitality industry in the past. First at my Aunt's restaurant as a teenager bussing tables, dishwashing, and being the occasional host when no one was available. In my early adulthood I was the store manager at Dominos Pizza.
I've heard all kinds of complaints, sometimes customers trying to take advantage of you, and the headaches of cleaning up an employee's mistake that disgruntled the customer. It's a hassle and is stressful dealing with this stuff on a daily basis.
With Affiliate marketing you are only recommending the product and making commissions when people decide to make the purchase. The company you affiliate with is in charge of handling any kind of issues that arise.
You should only be recommending products you truly believe in, but even great products can break or cause other unexpected issues that you personally didn't have. It's a huge relief that someone else will rectify the problems for you.
#13. You are Your Own Boss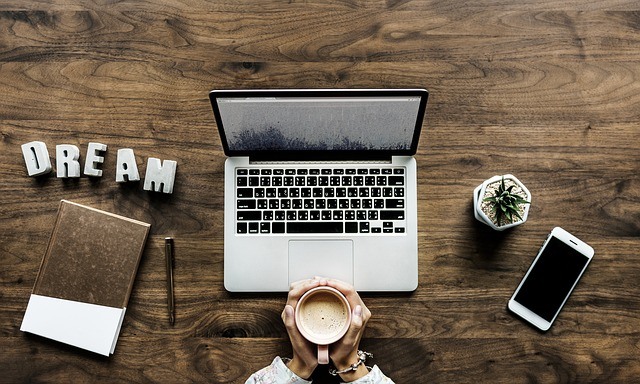 This is a bit cliche because I'm sure you've heard this many times before. But that doesn't make this statement any less true.
You can work once a week. You can work four hours a day. You can work at 12 in the afternoon or at midnight when the world becomes quiet. You can work in an office or while you are still laying in bed in your pajamas.
It's still recommended you create your own schedule to stick with, but how you create it is completely up to you.
#14. Can be Used as a Supplemental Income
Maybe you already have a job that you love. You just want a little extra cash that you can put into savings or use so you can take more holiday vacations. You don't need to quit your job to earn money with affiliate marketing. This can just be a side hustle for you.
Of course, if you start earning enough and decide you've had it with your boss at work. You can always transition to full time and scale your income higher. Some people are happy only making $500 a month (that's been me for the last two years) and others want to make $10,000 a month.
How much money do you want to make with affiliate marketing?
#15. You Can Create a Passive Income
Let me be clear, before you can have passive income you need to be active.
There is no such thing as a four hour workweek when you start.
You need to spend a lot of time and effort to get to that point. But if you are happy with the income you are making, you can outsource some of the work to help maintain your website so you will have passive income.
Even then you will still need to spend a few hours a week managing the website and delegating task to the people you work with to keep your website growing.
#16. Your Income is 24/7/365 a Year
Whether you are eating popcorn at the movie theater, swimming in the ocean, or sleeping after an exhausting night of partying, your affiliate marketing business is open 24/7/365 a year.
There are people visiting your website at all hours of the day whether you are connected to the internet or not.
#17. You Will Have Job Security
When you start an affiliate marketing business there are millions of products you can sell in all kinds of industries. You can affiliate yourself with a company and all of their competitors. This gives you the opportunity to have multiple income streams.
So if one company goes out of business you will still have other income streams to fall back on, keeping your well from ever drying out.
So while you may not be getting a guaranteed hourly wage, or 401k, or any kind of health benefits, you will have multiple incomes to take care of all your daily expenses and pleasures.
#18. You Don't Need to Commute to Work Anymore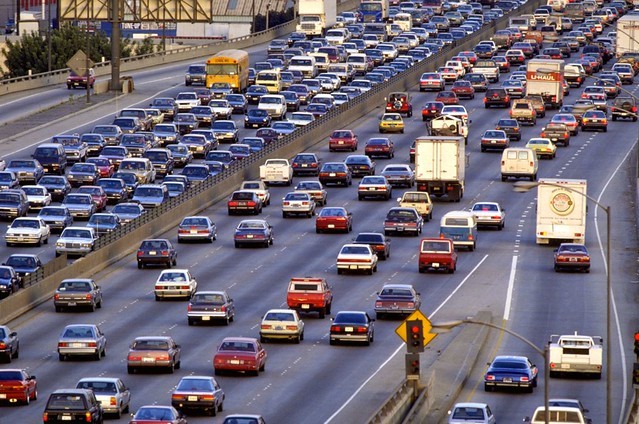 More and more companies are allowing their employees to work from home at least once a week. So if you live in an area like San Francisco, New York, or Boston where the traffic can get crazy and it becomes stressful just to get to work, you are not alone and you will not have to worry about that anymore.
This also frees up more time for you since the average person spends almost an hour a day in traffic commuting to and from work.
#19. Affiliate Marketing is a Global Business Model
Affiliate marketing works in every country. You are also not restricted to only earning money in your country's currency. You can live in Vietnam and earn US Dollars by marketing towards US citizens.
So no matter where you are in the world you have the opportunity to earn a full time online income marketing to people from around the globe.
#20. You Learn Skills That Can be Used for Other Job Opportunities
Even if you give affiliate marketing a shot, maybe it's just not the right cup of tea. That's OK . It's not for everyone. However, the skills you learn can become invaluable for future endeavors. Just a few skills you can learn with affiliate marketing are:
SEO
PPC
Building Websites
Social Media Marketing
YouTube marketing
WordPress
Email marketing
Content Marketing
Big and small business are all looking to grow their revenue. But they don't always have the necessary skills to do this. So they will pay $1,000s or hundreds of thousands of dollar if you have the skills and can bring them results.
So while you may decide creating your own affiliate marketing business is not in the cards for you anymore, you can still use the knowledge to help grow other companies and they will pay you big bucks for these skills.
#21. You Can Help Others
People are looking for advice and guidance and them finding your website that contains valuable information can be a great feeling. It feels good to help others. I always get a smile when I hear how I've saved someone thousands of dollars just by following my advice.
Whether you are writing reviews to save people money or teaching people how to play a sport there isn't any better feeling in the world than knowing someone is grateful for the value you provided them to help with their goals.
Don't you feel good afterwards when you help someone find their dog or help an elderly person with their luggage and they show you a big fat smile on their face as a thank you? I know I do.
Where Can You Learn Proper Affiliate Marketing?


As you can see, I believe affiliate marketing is a great way to earn an income online and learn new skills that can help you later on.
However, and let me be clear, affiliate marketing is hard work. You will not earn you first dollar on your first day. It can takes months before that first dollar shows up. You are building a business and we all know Rome wasn't built in a day.
You have to be patient and keep persisting with hard work to make earning a good income online a reality.
Nevertheless, this is possible for anyone that is willing to stick with it. But you don't need to do this alone either.
Most people that are failing online probably aren't getting the proper training to turn this into a reality.
Like I said earlier, you have to put in the work. If you are willing to and want to learn how to build an income generating affiliate business then I highly recommend you check out Wealthy Affiliate.
I've been with them for over four years and they will provide you with step-by-step training and all the tools needed to build an affiliate income.
This the most comprehensive learning platform that I've seen and been a part of.
At the same time you will receive awesome support and get the best value for your money for learning.
So if you are serious about making money online with affiliate marketing then I highly recommend you check out my review of Wealthy Affiliate.
Final thoughts
So there you have it. These are the 21 Benefits you have as an affiliate marketer. Don't get me wrong though. There are disadvantages to affiliate marketing as well, but the advantages far outweigh the disadvantages.
Affiliate marketing is a great way to earn an income and it's also the only method I've used to support myself these last two years.
Between the low cost to start a business, the flexibility of being your own boss, and the limitless earning potential, affiliate marketing by far is one of the best ways to earn an online income.
So, What are the benefits for you as an affiliate marketer? Let me know in the comments.