August 25, 2015
How To Create A Free WordPress Website in 30 seconds Using Siterubix



One of the great things about the internet today is Anybody From Any Background Can Turn Their Passion Into A Thriving Online Business.
This can be very difficult to do if you try building a traditional brick and mortar store. It takes a good chunk of cash. Your cost every month, after the initial start up costs, can be expensive as well.
When you build an online business, it starts with creating a website, which only takes 30 seconds to do. How cool is that? So today, I am going to show you how to create a free WordPress website in 30 seconds using Siterubix.
You don't need to know coding like the old days. Even a child can create a website just following directions. Following the simple training below will lay down the first brick you need to building the foundation of your successful online dream business. When you do follow the steps,
I will contact you personally to make sure everything is going smoothly. This training isn't just going to show you how to build your very own website. It is also going to show you access to a community of 400,000+ members (some millionaires) that want you to have as much success as you want yourself to have. So, let's get Started!
---
Step 1) The first step to creating a website is to come up with the domain name. You want to try to create a name relevant to what your topic will be for the website.
If you are going to be talking about, for example, brewing beer at home. You may decide to use homebeerbrewers.com as your domain name. For this example I'm going to use learning how to play baseball as my example.
Below in the box type in what you want the name of your website to be. For me, I'm going to use baseball101 as the example. After you type in the name, Click build it now.
This may prompt you to create an account. The account is free and doesn't require any credit card. So don't worry to much. just set an account up real quick.
---
Step 2)  After you create your free account, you should see something similar like the picture below. Now you are going to name your website. Once again make the name related to your topic. If you are not completely sure what you want for a name, don't stress out.
You can change the name later. Since I'm creating baseball101, I decided to call it baseball learning 101. This is a test website for now. However, if I were to work on it later, I would probably change my name. I'm just going to stick with it for the example.


---
Step 3) Now, you are going to choose the theme of the website. This will be your appearance. Since you are making the website for free, you are only allowed 12 different themes to choose from. The free themes are still great.
This website, that you are on, uses the free theme Omega, and I do perfectly fine with my website. Once you are making money, you can always choose to upgrade and change to one of thousands of different premium themes that are readily available.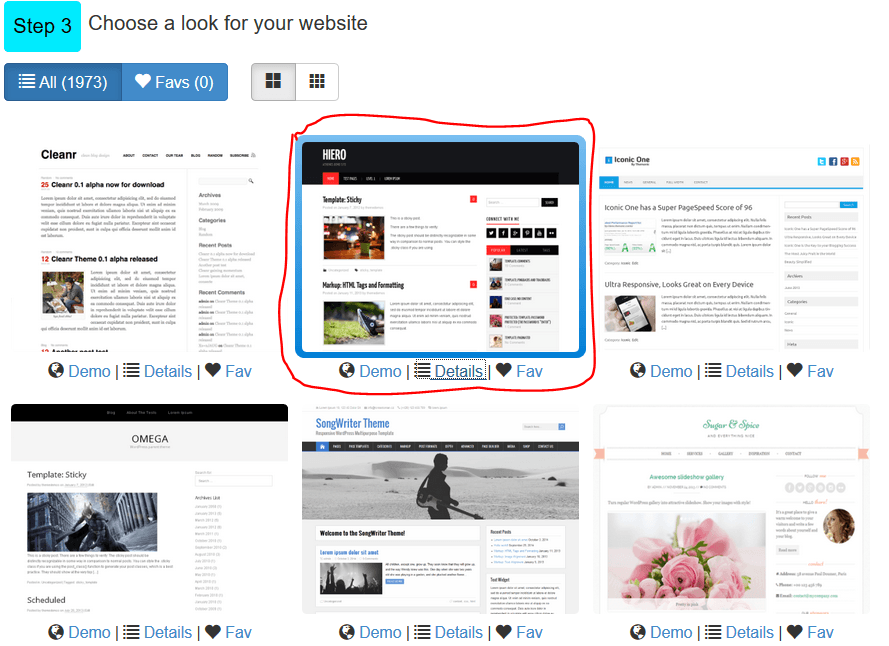 ---
Step 4) The final step, for building a website, is simple. All you have to do is click the " I'm Ready, Build My Website Now!" button. It will say hold tight for a few seconds while your website is being built. Then, voila! Your website is now built.


---
If You Read Through The Steps First, You Can Build Your Website Below.

---
After you build your free WordPress website, you will be brought to a page that shows your access details. You can now log into the Administration area. This is where you will build content for your website.
If you are not sure how to get started, you will have access to free lessons. There are two different courses with ten taught in each course. This is Training through Wealthy Affiliate University. You will also receive:
Free Hosting
Free Support From Expert Affiliate Markers (Some Are Millionaires)
Free Tutorials And Video Training

And So Much More Than What's Listed Here.
Since I have a paid membership, All my website functions are unlocked. You will receive all the functions on the left columns. Four Plugins that will help optimize your website for Search Engine Optimization.
All in One-SEO
Google Analytics

Askimet Spam Protection
Exclude Menu Plugin
It's really not needed to have more than these plugins when you get started. While you learn, you want to focus on building content. Adding too many plugins can sometimes slow down your website if used wrong.
Get use to your new website first. Especially, if you are new to this. Go through the training first, It's Free. For website performance and security, you will have:
Server Monitoring
Spam Protection
Hacking Protection
Uptime Monitoring
The rest of the functions you will receive if you decide to upgrade, but make sure you enjoy the free membership first. I want to prove to you that, even with just having a free account, you will find the membership worth more than the price of a premium membership. That's just how I feel at least.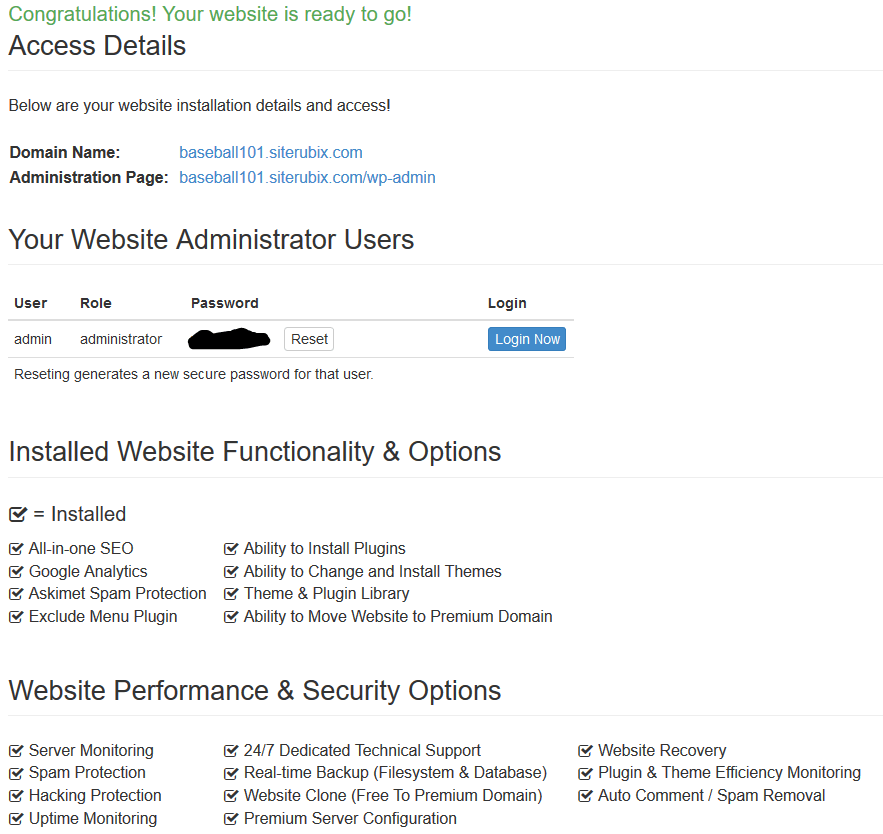 ---
Once You Login,
You will be brought to the page below. This is your administration area in your WordPress website. You can:
Create Pages
Write Post
Upload Pictures And Videos
Change The Appearance
Add Widgets
Post Ads
Add Plugins (If Premium)
You Will Be Able To Create A Business That You Have Always Dreamed Of

Be sure to get a feel of your website first. If you are new at this, you want to see where everything is before you get started.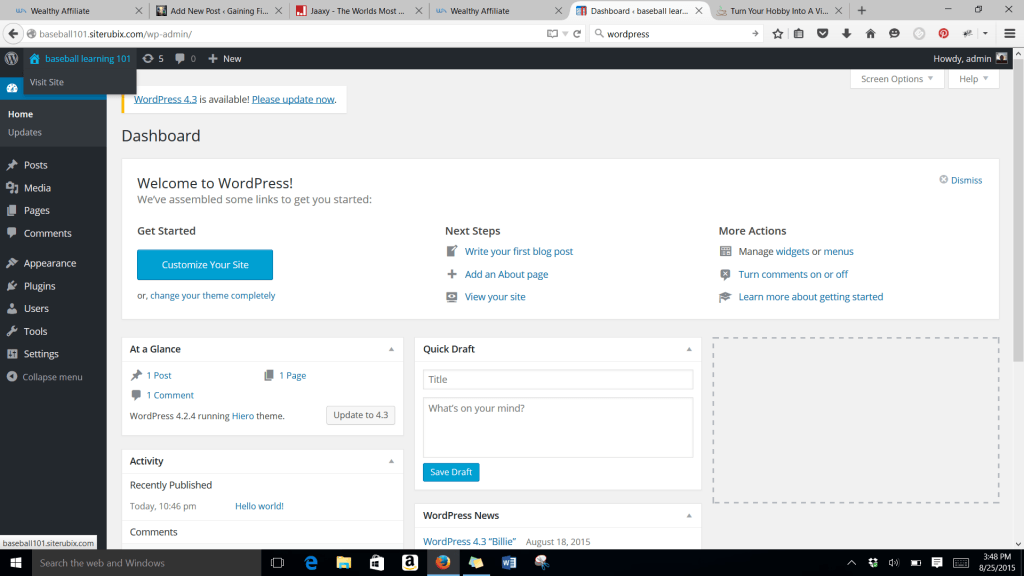 ---
Look At Your Website Through A Viewers View
As you build your website, you will want to see how everything looks and is placed, when seen by others on the web. You can do this by clicking on your website name in the top left-hand corner of your website. You can switch between Admin and your live website by clicking on the same tab.
Below is what my website looks without me doing anything except the four steps that I just walked you through. It is up to you to provide the content for the website. Nobody can do it for you, but everyone can help you when you need it.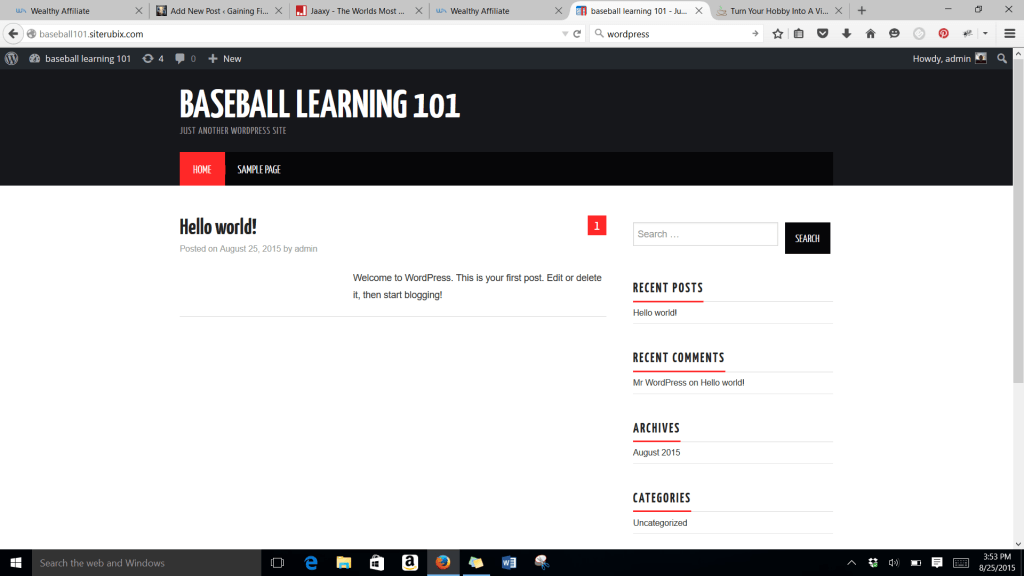 ---
Why Is Siterubix The Best Website Building Platform To Use?
The simplicity is one of the appeals to me. No longer is it hard to build a website for a beginner. There's no coding involved and it can be created in under 30 seconds. Another one would be the fact that you are receiving free training.
You get to test drive the car before you try to buy anything. I won't lie though. Yes, I will mention the premium membership, but I will never pressure you to get it. You will find though many are happy with it. This is just one example of a Siterubix site working for them. He is a current member.
So, if you are wondering if people will actually find you. They will, just be patient and ask for help.
I am in the community almost all day. So, you will be able to ask for personal help from me almost anytime you would like. My username is Boston10111. I will be reaching out to you usually an hour after you sign up for the free membership.
Questions And Concerns?
Please leave questions and comments below. It's important for me to help answer anything you need to know, before you sign up for the program. Also feel free to just sign up and contact me in the community as well. So, go ahead and create your website now to build the business of your dreams.

Just click above, if you would like more info on what Wealthy Affiliate University is. This is the training platform that got my business started. It has taught me so much, and I would recommend it for any serious entrepreneur out there. Many have succeeded, and you can too. But, I will let you decide.
Best Regards,
Brandon
Save