April 10, 2019
I Bought Secret Millionaire Bot- Here's My Insider Review
If you made it to my website then you must of heard of one of the newest money making opportunities that promises you to make a seven figure income on autopilot. This system is called Secret Millionaire Bot and I made the purchase to reveal what goes on inside. So if you are wondering if this is just another scam or the real deal you have to come to the right place.
Today I will be giving you my Secret Millionaire Bot Review after making the purchase to get the inside scoop.
So, Let's Begin!
Quick Report:
Product Name: Secret Millionaire Bot

Owner: Charles Allen

Website: SecretMillionaireBot.com

Price: $17 + Upsells
Rating: 1/10

Recommended? No, not possible to make a seven figure income

Alternative: If you are looking for a legitimate way to build a full time income online then check out my #1 recommendation that helped retire me from the 9-5.

Read on for the Full Review
What is Secret Millionaire Bot?
They have no idea how you stumbled upon this page but your life is suppose to change forever. That's because Secret Millionaire bot is a push button fully automated robot that is going to make you a million dollars on autopilot. "The first of it's kind" they claim.
Of course, this really isn't anything new. There's new products that come out on a daily making the same type of claims. Cash Sniper is the most recent scam I exposed with these kinds of income claims.
These types of products usually are not going to work so they instead tap into your emotions to make you believe that you have found the key to get out of the rat race.
Who is Charles Allen
Charles Allen is the spokesperson in the video and supposed creator and founder of Secret Millionaire Bot. He's actually been using this system for the last few years and claims to have made so much money it's not exciting to wake up with thousands of dollars in his bank account anymore. So he and is "elite group of underground millionaires" has decided it's time to allow others to have the chance to earn a life-changing income.
Charles Allen isn't even a real person, however. This is just a pen name used to keep himself anonymous from the public. You can see this if you scroll below the video to the fine print.


This is a very common theme amongst con artist because it gives them the ability to close up shop and open up with a new name and "life-changing" system once the sales start to run dry.
How Does Secret Millionaire Bot Work?
Secret Millionaire Bot is a system, and I quote, "That identifies the most lucrative money making opportunities on the internet, it then targets these and copies them into your account in this way all the hard work is done for you. Just follow some simple instructions in the members area and you'll be able to replicate our success"
There isn't much else said, but the system is fully automated and portrays the idea that a few minutes of work is all you need to being making thousands rights away.
You don't need a product, an email list, or any prior experience. Basically, just show up to start making money.
Cost of Secret Millionaire Bot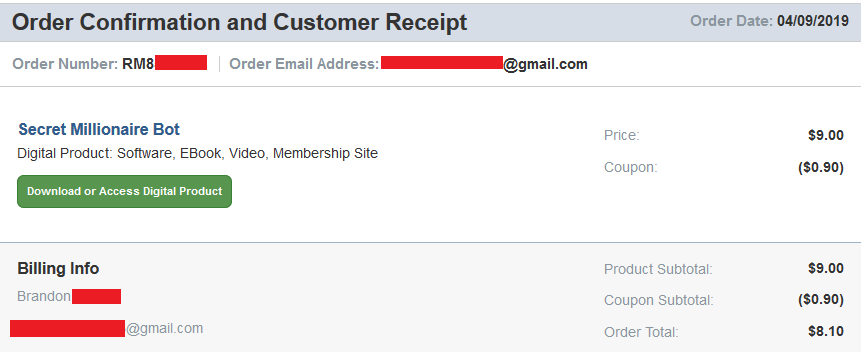 All you have to do to get access is enter your name and email and pay a tiny one time fee. Nothing more. You'll gain full, lifetime access to the system with the tiny fee. The truth is, Secret Millionaire is mainly a sales funnel with a bunch of upsells and a bit of confusion. So let's get into the cost right now.
Front End Offer
Secret Millionaire Bot- $17
This is the push button fully automated software that will create a seven figure income for you. If you try to leave the sales video you will get discounted to $9, but the discount will go as low as $8.10 if you try leaving the order form.
Secret Millionaire Bot 100X Traffic Secrets- $14.95

During checkout there is a tab to add 100X Traffic Secrets to your order. They don't actually try to sell this but it is an add on to your order if you choose. I skipped this because why would you need it if I'm going to make millions?
Upsell
Doesn't mention a name but the price is $497?
There's a little confusion here because there is no name mentioned of the product being sold, but this is the upsell you are brought to after purchasing Secret Millionaire Bot. This product will allow you to siphon traffic from all of their Blockbuster sales pages.
What makes this upsell a little fishy is because they mention another system called Million Dollar Replicator in the sales video and calls MDR a worthless system if you are not getting traffic (No traffic means no sales).
Super Affiliate System-$997
This is an upsell inside the member's area that is suppose to show you how to make a six figure income. I haven't reviewed them personally, but there are mixed reviews on whether or not they are a scam.
CoolHandle- Starting $5 a month
This is a website hosting company. Hosting is basically the house or store for your business and the domain name is the address to your house or store. This is necessary if you want to run a website, but does not mean CoolHandle is the best company to use. That will vary on experience.
BulletProof Profits System- $9 + more Upsells
I recently did a review on BulletProof Profits System and can tell you confidently to avoid it at all cost. It's just another system that promises to make you riches practically overnight. But, those systems don't actually exist.
Inside The Secret Millionaire Bot Member's Area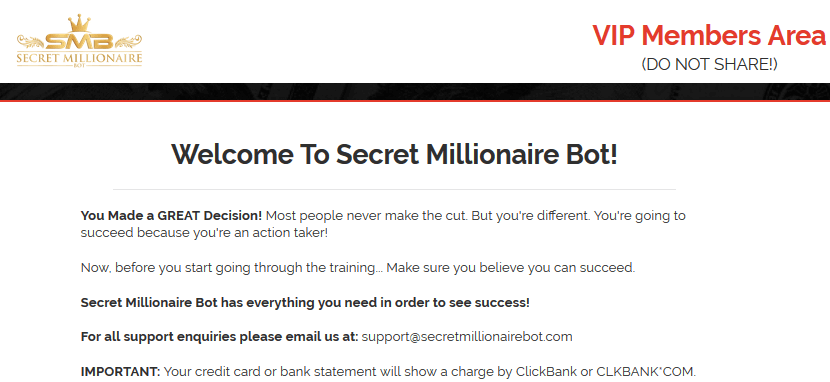 Whether or not there's a ton of hype before you make the purchase really isn't important. It's the kind of value inside the system that will make a difference if it's worth the price tag.
Unfortunately, Secret millionaire Bot does not deliver even close to what you could expect.
The first four steps before you receive any training is the Upsells I mentioned above.
Step One- Is an introduction video that goes over the next few steps which are all upsells to various products and then mentions to check out the training provided afterwards.
Step Two- You are told to register for the VIP members workshop. This is the upsell to the Super Affiliate System. The first hour or so will give you some value but then the next hour and a half will be to convince you to buy. But this shouldn't even be necessary if you are going to make those millions.
Step Three- Is so you can activate your exclusive free website for VIP members. This is the upsell to Coolhandle. You do get a website free, but so does anyone else that pays for a domain name and hosting which means it's not actually free. I actually did a training on how you can set up a free website with the hosting included. These are sub-domains but will work and rank on Google the same as an ordinary website.
Step Four- This is Secret Millionaire Bots highest recommended product which will send you to a system called bulletproof profits, a system that claims to make you $3,750 with only 7 clicks. I already exposed bulletproof profits as a scam though in a review I did a few days ago.
The Training Inside Secret Millionaire Bot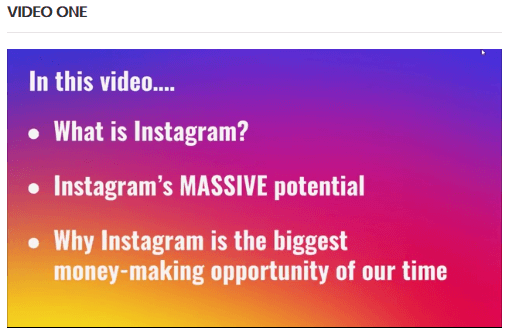 The training is divided by weeks. You have week one through week eight which makes it seem like you are about to get extensive training. But, each week only has one video and they are five to ten minutes long each.
The training is focused on Instagram. So, so much for that push button system that was promised. The training is just fluff, in my opinion, as Secret Millionaire Bot seems to have been created as a sales funnel to various products.
These are the training modules you will go over inside.
Week One-What is Instagram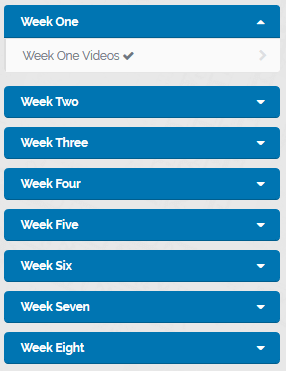 Week two- Starting on the Right Foot
Week three- Building Your Instagram Brand
Week Four- Creating an Instagram Business Account
Week Five- Five Ways to Make More Money on Instagram
Week Six- Becoming a dropshipper on Instagram.

Week Seven- Affiliate Marketing Case Study
Week Eight- Growing your Instagram followers
Like I said earlier, the videos are, at most, 10 minutes long and only really covers the basics in that time. All the information I learned was information I had already known from doing simple Google searches on the subject. So I didn't actually acquire any new knowledge from going through the training.
The other interesting thing to note, is throughout the training Easy Insta Profits, another system, kept getting mentioned which makes me believe this was training that just got repackaged and presented as a new product.
There are other basic training on video marketing and product creation, for example, but some of this stuff looked like repackaged training as well. And certainly wasn't any step by step training instructing you on what to do that was easy to follow.
Major Red Flags to Avoid Secret Millionaire Bot
You've seen the cost, I've gone over the training inside, it's not what I was expecting. That's for sure. So let's go over all the reasons you should take your money elsewhere.
#1. False Income Claims
Anytime someone tells you how rich you are going to get it's a sure sign you could be looking at a scam. Any successful person out there needed to put in an effort to get where they are. You can't expect this time will be different. It won't.
The screenshots might be real, they might not be. I don't know. But the fact you don't even receive a done for you, push button system tells me this income came from somewhere else. Most likely money from the products they created to sell to you like this one.
#2. Fake Testimonials
As soon as I saw the testimonials I knew this product was lying. The testimonials are done by paid actors and actresses and I recognized most of their faces from previous scams I have reviewed. Explode My Payday and Million Dollar Replicator are a few of the programs you will see the same faces in the testimonials. Plus you can see the proof in the screenshots I provided too.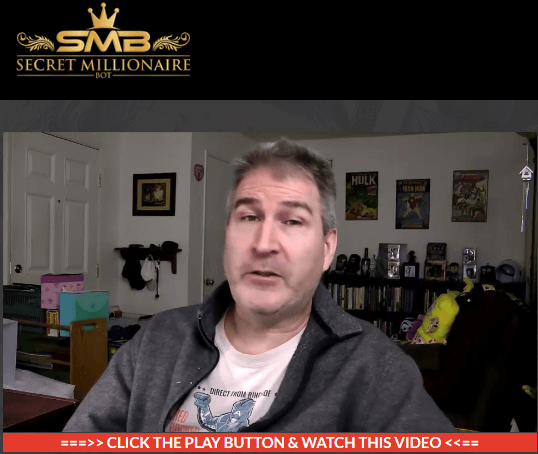 This guy claim to have made almost $350,000 in three months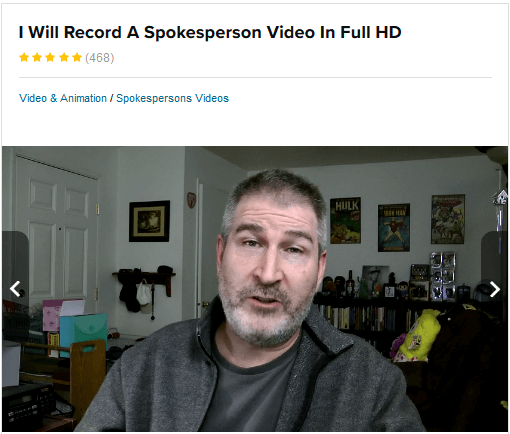 He's just an actor on Fiverr.com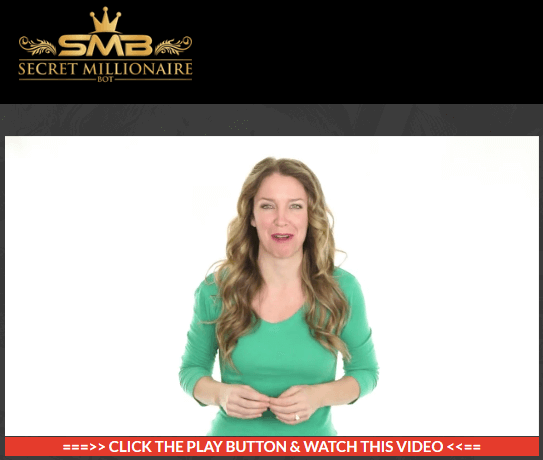 She claims to have made $221,000 in two months of using Secret Millionaire Bot.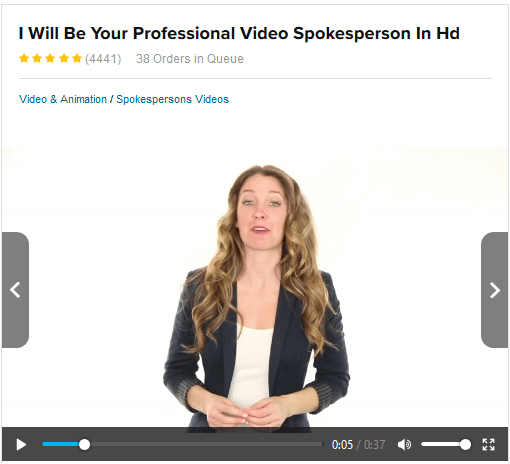 She's also an actress on Fiverr
#3. Fake Social Comments
Scroll below the video and you will see "Live Social Proof" of average people like you and me that are making money with this system. This is just a bunch of BS to make you believe others are loving the system. Come back an hour later or refresh the page and the people and comments are the same which shows it's not "Live".
Search for the people in Facebook and Twitter and you won't find them either. One of the comments even states they saw Secret Bot Millionaire advertised on TV, but this would be a lie if you got to the page by "private invitation". Plus, search for Secret Millionaire Bot's Twitter page and it doesn't exist. Yet, Twitter users are apparently giving a shout out to them.


#4. "As Seen On"
Below where you would put your email to get access there's a picture of Forbes, CNN, Huffington Post, Etc… This is to give you the idea that big named media places have talked about this system.
Search for articles in these different websites and you will realize they don't exist. These companies do not endorse Secret Millionaire Bot. SMB is just trying to look credible by placing a banner of these companies below the sign up form.
Who Is Secret Millionaire Bot For?
So, who is this for? Definitely know one that thinks they are going to make money overnight. I definitely wouldn't recommend Secret Millionaire Bot to anyone that wants to earn online. There are much better training programs that can give you all the training, tools, and support needed to succeed.
Pros and Cons of Secret Millionaire Bot
I try to find a silver lining in every product I review so let's go over of the pros and cons of Secret Millionaire Bot.
Pros
60 Day Money Back Guaranteed
Gives a little bit of marketing training
Cons
False Income Claims
Fake Testimonials
Fake "Live Social Proof"
Won't Make You Money
Not a Push Button System
Is Secret Millionaire Bot a Scam?
This is the big question I'm sure many of you want to know. I've laid out the facts and showed you what's inside. Ultimately, it's up to you to decide whether are not this system is a scam.
In my own opinion, Yes, I believe Secret Millionaire Bot is a scam. They don't deliver on their promises and the entire sales video and page is filled with deceit and lies. So I'm not really sure what else I would call it. There is some training, but it could just be repackaged from a previous product they created with the same kind of hype.
Charles Allen is definitely not a guy that I can trust and put my faith in and I hope you can agree with my reasoning.
Anyone that shows the kind of hype and deceit he does isn't out for your well being. They are out to get the cash from your wallet, and that's what I'm here to prevent.
I understand the struggle of not having money and looking for opportunities. I grew up poor on food stamps and government assistance because my family couldn't afford anything. My parents lost the house in the 2008 Recession and I had to move and change lives because of it.
But things can change if you work hard towards your goals. Just don't get caught up in programs like these.
The Alternative
If you are still looking for that opportunity to build an income online and move away from the struggles like I'm sure we both have had in life. That's why you are here, isn't it?
Then I recommend you check out my review of Wealthy Affiliate.
They are my #1 recommendation and the reason I've been able to go from struggling to Traveling the world ( I'm in Vietnam right now, btw). They give you the tools, training, and support you need to succeed.
Now, I'm not going to say it's easy. You won't see success overnight. Those aren't the programs I promote because they don't exist. Prove me wrong. But, if you are willing to put in the time, effort, and hard work needed to succeed then there is no reason you should fail.
Plus, I'll be right beside you to help you along any time you need help or have questions.
So if you are ready to get to work, then Check out Wealthy Affiliate and I will see you inside!