March 23, 2019
Daily Cash Siphon Review- Scam or Siphoning $395 Daily?
In 7 minutes and 19 clicks you will be able to "legally siphon cash from a controversial $480 million market". It's "Highly controversial and shockingly profitable". If you have run into Daily Cash Siphon, those are some of the words you would've heard in their sales video.
We all want to make money and when you hear those kind of statements it makes you wonder how legitimate this program is. I bought DCS to determine the value you will receive.
Today I will be doing an in-depth Daily Cash Siphon Review. Is it a scam or are you Siphoning $395 Daily?
Read on to have the truth revealed!
Quick Report:
Product Name: Daily Cash Siphon

Owner: William Fairbrother

Website: DailyCashSiphon.net

Price: $37 +Upsells
Rating: 5/10

Recommended? No

Alternative: If you are serious about making money online, then skip the BS and check out my #1 recommendation for Learning how to build a sustainable online business.

Read on for the Full Review
What is Daily Cash Siphon?
Daily Cash Siphon is another affiliate marketing program that claims to have found a "glitch" that exploits a $480 million "barely ethical" market that allows them to "siphon" cash daily into their bank account.  It takes 7 minutes and 19 clicks to get this powerful cash generating system all set up. You are told not to share this "private" video with anyone because if the system is placed in the wrong hands "we could all lose our income potential".
Truth is, anybody that is an online marketer already knows what affiliate marketing is and does it to make money themselves, including myself. For the ones not knowledgeable about this market, DCS uses your inexperience to their advantage to make you think they know what's best for you.
What is Affiliate Marketing?
In case you are unaware of what affiliate marketing is, it's actually a very simple concept. Companies like Nike, Amazon, and Walmart will pay you to promote their products. So if you were interested in creating a website you would:
Build a site
Produce Helpful Content
Drive traffic to your website
Promote Products in your niche
Get Paid
It's free to join these company's affiliate programs. So every time someone goes through your affiliate links (How companies track who is bringing them customers) and make a purchase, you will get a commission for your work. The bigger the effort, the more money you make.
I'm a huge fan of affiliate marketing because the income potential truly is unlimited. The amount you make is based solely on your efforts so you don't have to rely on others like you would with MLM companies.
Who is William Fairbrother?
William Fairbrother is the name of the spokesperson in the video. However, this is just a pen name used. Which you can see in the fine print at the bottom of the video. Chris Parker is the name of the person who creates the training videos inside the member's area and who I believe may be the real owner, or at least business partner of Daily Cash Siphon.
How Does Daily Cash Siphon Work?


It's hard to know what you are truly doing unless you purchase Daily Cash Siphon because there isn't anything really explained in the video. How do you find people? What is the work you are doing that involves 30 minutes a day? What does the "7 minutes and 19 clicks" involve doing? What type of training are you receiving?
These are all reasonable questions before you make the purchase but you are left without answers beforehand. I will touch base inside the members area later on in the article.
Cost of Daily Cash Siphon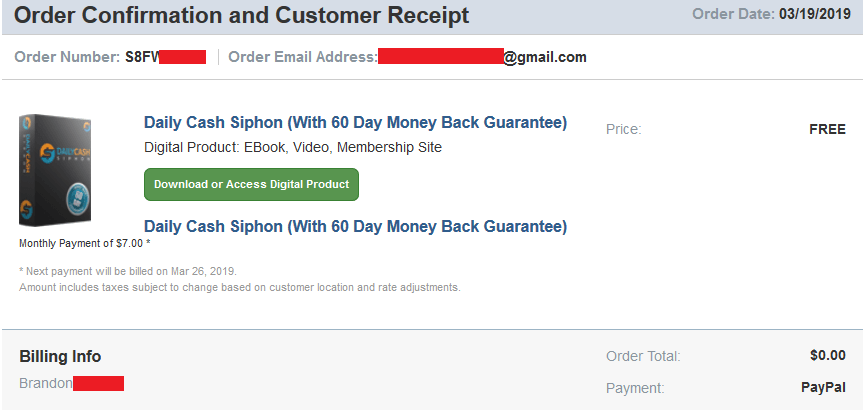 DCS is advertised as the only thing you need to make bucket loads of cash, but this isn't the only product they are selling to you. The minute you make the purchase you are immediately taken to an upsell before getting access. So let's dive into the cost of Daily Cash Siphon.
The Front End Offer
The Daily Cash Siphon System- $37
This is a step-by-step training course on leveraging the power of Affiliate Marketing and Blogging. DCS shares long term and short term profit generation strategies through easy-to-follow videos.
Upsells

#1. Daily Cash Website-$197
This will provide you with a custom made "done for you" website with:
Articles
Sales Video
Product Reviews
#2. Daily Cash Niche Website-$187
This will provide you with a custom made "done for you" website in a different niche with:
Articles
Sales Video
Product Reviews
#3. Daily Traffic Siphon-$97
This product includes basic and advanced traffic strategies
Red Flags
While I'll admit there are a few things I do like about Daily Cash Siphon which is hard to find in these type of programs. There are many red flags, as well, that tells you to stay away from this system completely. So let's talk about some of the red flags now.
False Income Claims


It's true, you can make a lot of money through affiliate marketing. But this is also where daily Cash Siphon gives affiliate marketing a bad name. It doesn't take a few minutes and a few clicks to make a large amount of money. Anyone in the affiliate marketing industry will tell you this. It takes a lot of work and patience.
Money doesn't grow on trees, but DCS makes you feel like it does using their system. The income claims they state are completely false. The same exact income "proof" that they show you has been used to promote other scam products like Five Minute Profit Sites and Auto Chat Profits. You can see this in the screenshot above.
So not only are they making bold income claims, they don't have a proven system since they show the same numbers in other programs built by the same creators.
Claims They Are Closing Their Doors
To entice you to buy right away, they tell you this is your only chance to get into this awesome program. They want you to make an impulsive decision, because if you think about it you will most likely have second thoughts. They have found the "loophole" to exploit this huge market.
There is no "secret" to making money online. And there certainly isn't only one person that happens to know this "secret". At the same time they tell you not to share this "private" and "confidential" video with anyone they are paying other people to promote this very same video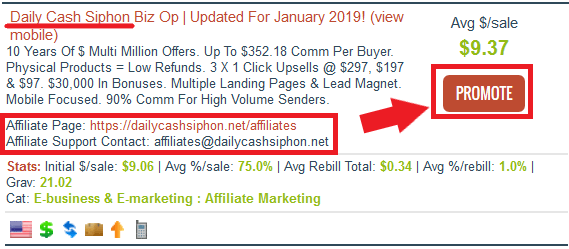 Same rehashed Video with Same Income Results as Other Products
These types of scam programs pop up all the time, using videos they made from selling previous products. Daily Cash Siphon is no different. While the video may be formatted slightly different, they are telling you the same exact thing as other programs.
"Private Video","glitch", "Controversial", "Shockingly Consistent", "Weird Trick", "Explosive Profit".
These are words used in all of the videos to make you think this is the best thing since sliced bread. These are the words that should make your scam radar scream.
Disclaimer


Read the fine print and you are told the results are atypical. "Average results are unknown". But listen to the video and you are told the opposite. "You could start making money faster than you can imagine". You need "zero" experience and it only takes 7 minutes and 19 clicks.
The fact is you can't go zero to hero overnight. They know this too. That's the whole reason for the disclaimer.
Misleading Advertisement
Before you make the purchase, you are told 7 minutes and 19 clicks is all you need to start making a ton of money. Afterwards, it just takes 30 minutes of work a day. This couldn't be farther from the truth! Inside you are taught affiliate marketing. There are many things that involve this.
You need to write the content, first off. This takes more than 30 minutes alone between the research, the writing, adding pictures, videos, and editing before you publish.  You need to learn Keyword research to rank your articles in Google. You need to learn SEO, Email Marketing, and Social Media marketing.
You need to understand how to customize your website, and all the different functions. Once you start posting content on your website, you have to have patience. It takes time for Google to rank your content. This doesn't happen overnight. It can take months before you see any real traffic.
While affiliate marketing isn't difficult and I do believe anybody can do it, it does take a lot of work. You won't make life changing money if you are only working 30 minutes a day. Once inside Daily Cash Siphon you are taught the basics of this stuff, but that isn't the type of product that's advertised beforehand.
No Customer Service
There is no customer service. If you have a question or have a problem with something you can't send them a message. I had my own issue and four days later I haven't received any response. Which I will touch on later in the article.
Inside The Daily Cash Siphon Member's Area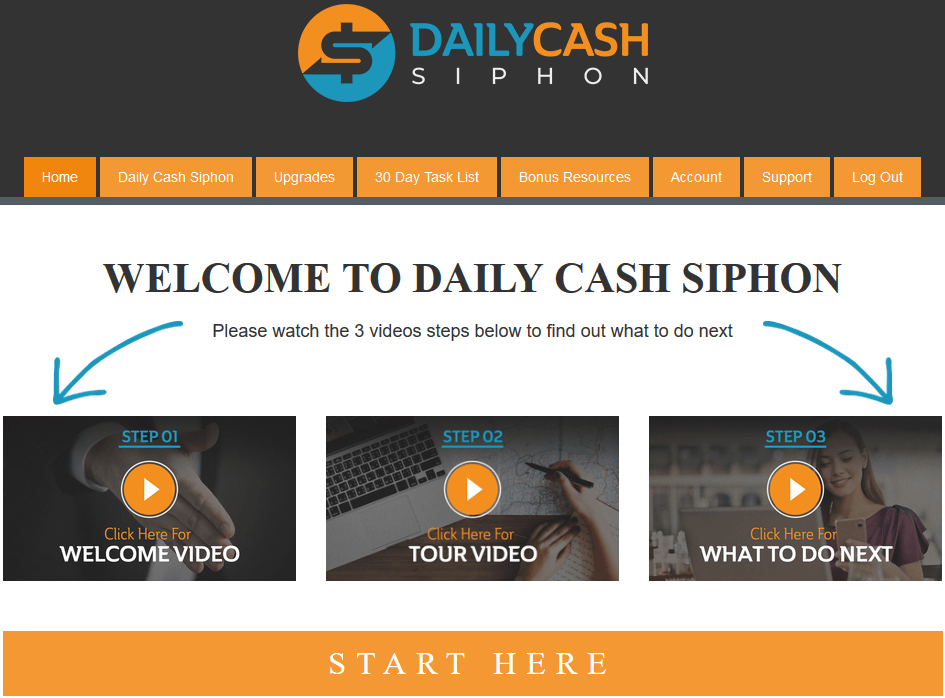 While the sales video is very misleading, the training is quite extensive. There are 60 training videos that are short but concise with task to complete for each video.
Daily Cash Siphon teaches you how to set up a WordPress website, gives a pretty good tour on the functionality of WordPress, and shows the basics on Blogging, Keyword Research, SEO, Guest Blogging, affiliate programs, Twitter Marketing and driving traffic to your website.
The training is step-by-step. The videos are about five minutes each giving you approximately five hours of training! I was quite surprised and will admit there definitely is some value in Daily Cash Siphon if you are a complete newbie that doesn't have any knowledge of affiliate marketing or setting up a website.
The training modules you can expect are: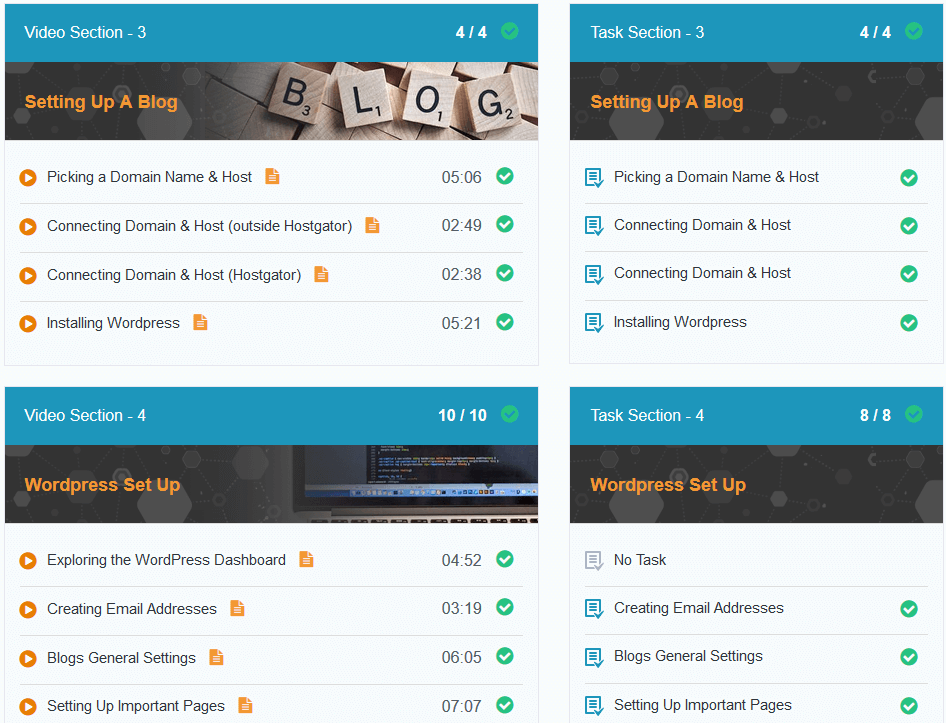 Where to Find Inspiration
Installing WordPress
Exploring the WordPress Dashboard
What Makes a Good Post
Keyword Research
Keyword Density & Post Length
How Often Should You Post
Outsourcing Your Content
Advertising for Guest Bloggers
Adding Blog Posts Pt1-2
Onsite SEO Tweaks Pt1-2
Ultimate Social Media Sharing
Using Twitter Effectively Pt1-3
Updating Your Social Sharing Plugin
Guest Blog Posts
Article Marketing
Become an Active Forum Member
While there is substantial training for setting up a WordPress website, I honestly don't see the training going much farther than this. Though, it can be a great start for helping someone understand that has no experience or knowledge. Whilst the training isn't half bad, you will need more training than what's provided to start making some decent money online.
Daily Cash Website
While I don't recommend purchasing Daily Cash siphon there's at least some value in the training. Any purchases past DCS you should avoid at all cost. And I'm going to over the reasons why you don't want to purchase Daily Cash Website now.
#1. You Will Waste Your Money.
I wasn't willing to pay $187, but when I tried leaving the upsell sales video I was offered a free 7 day trial ($17 a month afterwards). So I decided to make the purchase so I can get a better feel of DCS.
You pick a domain name from a list of recommendations then after your site will get built for you. I went through this process and afterwards tried visiting my website on different browsers and devices. This is what my "done-for-you" website looks like.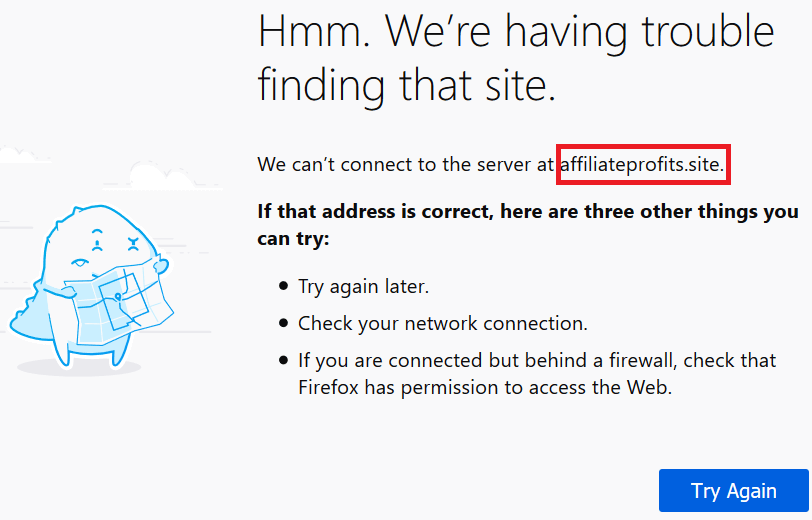 As you can see I can't access my website. I already mentioned earlier that they don't respond to emails. So you may see my dilemma here. I can't contact anyone to fix the issue! I will be cancelling my subscription and this is one of the reasons why.
Had I paid the full price for Daily Cash Website I would be in the hole $197 with nothing to show people.
#2. Duplicate Content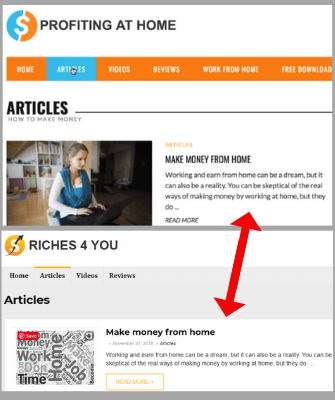 While I didn't get access to my website, I can guarantee you are getting a website that looks exactly the same as others with duplicate content as well.
Minus the more extensive training, Daily Cash Siphon is the same exact system as Five Minute Profit Sites, another scam that I already exposed. In Five Minute Profit Sites I did have access to my Done-for-you website that's offered.
You can see in the image on the right that the article title and description are exactly the same. The top website is the example website shown for DCS. The bottom website is what my FMPS website looked liked.
You will receive four articles for your Daily Cash Website, and none of them will rank on Google because they frown upon duplicate content. Google will penalize your website and you will lose any hope of being found in the search engines.
Even if the content was unique like DCS claims, four articles is not enough content to give you any kind of ranking power. Google thrives on content and is only showing websites with tons of high quality content on the first page.
So if you are not receiving traffic how do you expect to make money? The only way is paying for traffic which isn't guaranteed to convert.
#3. Professional Actor Used for Product Reviews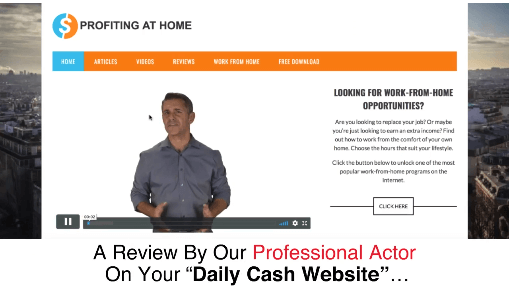 DCS admits in the upsell that the product review is done by a professional actor for the website they build for you. This already tells you it's not real people that are giving a good review on the product you sell to your website visitors.
Right there shows the kind of credibility and moral ethics being used to promote other products.
#4. No Control
Let's say you pay for traffic, and it converts extremely well. Now you're making money! But, you don't own the website, can't control the designs, and can't control the products being promoted on "your" website. ClickBank isn't a scam, but is known for scams and low-quality products being promoted on their platform. So you will always be wondering if you are promoting ethical, legitimate products or the scams.
Go back to the fact you don't own the website, If DCS is shutdown your income disappears overnight making them unreliable. I've already proven that with the non-existent customer service.
Who Is Daily Cash Siphon For
If you ignore the misleading claims, there is some value in the training. I don't recommend them, but if you are a complete newbie with no knowledge of setting up a WordPress Website or affiliate marketing then you will learn a thing or two with DCS.
If you already have experience, then Daily Cash Siphon would be a pointless purchase for you.
Pros and Cons of Daily Cash Siphon
I've gone over quite a bit in this review of Daily Cash Siphon. So let's do a quick breakdown of the Pros and Cons of DCS.
Pros
Good Step-By-Step Training on a Basic Level
60 Day Money Back Guarantee
Cons
False Income Claims
Misleading Sales Video
Non-Existent Customer Support
May Not Receive the Product You Purchase
Cookie Cutter Website
Not Likely to Make Money
How Daily Cash Siphon Compares to My #1 Recommendation
Between the non-existent support, misleading sales video, and the fact they only teach affiliate marketing at a very basic level, Daily Cash Siphon isn't my favorite program.
If you are interested in quality training, a Facebook-like community for people learning how to make money online, two free websites, and support from myself (I'll send you a message once you sign up) then there really isn't any comparison to the value you will be receiving going with my #1 recommendation for Building an online business. You can see this below.
Is Daily Cash Siphon a Scam?
This is a good question, and you will probably get mixed responses. In my opinion, Yes and no Daily Cash Siphon is a scam.
You don't go to a computer store only to get sold coffee, and that's what DCS does with their misleading sales video. The system is nothing like what you are shown. You are not likely to make money for all the reasons I've listed earlier. And there's a good chance you might not receive the products you purchase from them.
So when you say it like that. Sounds like a scam to me. But there is good training on the basic level, and I have to give them credit where it's due. Ultimately, it's up to y0u to decide if DCS is a scam. I've laid out a comprehensive review and told you my opinion.
The Alternative
Now, if you have realized Daily Cash Siphon isn't for you after my review, there are options.
Wealthy Affiliate is My Number One Recommendation.
There isn't a training platform out there that gives you as much value as them. I've been with WA for four years which is quite a feat to still be happy paying every year without an end in sight.
Through the top-notch up-to-date training, Facebook-like community, weekly live video training, hosting my websites (that I have complete access too and own 100%), and communication with the owners of Wealthy Affiliate I have achieved my dream of traveling the world.
I don't want to hype them up too much, and give you the wrong idea, because you still have to put your best foot forward and word hard. But, if you want an opportunity to create a new lifestyle there is no one else I recommend more.  Check out my review of Wealthy Affiliate to learn more. They may just be what the doctor ordered to achieve your goals.
Have you used Daily Cash Siphon? Give me your review in the comments!