April 8, 2019
Is Cash Sniper a Scam? Here's My Insider Review
If you are here then you must've heard about Cash Sniper. A 2019 system that could earn you as much as $3,500 within the first 24 hours after setting everything up. It's a pretty bold claim and I decided to purchase the system to reveal the truth of what goes on inside.
So if you are wondering if you should make the purchase, what exactly Cash Sniper is about, and whether or not if it's a scam or legitimate. Then you have come to the right place and I welcome you for doing your due diligence first.
Today, I will being doing an In-depth Review on Cash Sniper to show you if they are a scam or a place that can make you cash overnight.
So let's Begin!
Quick Report:
Product Name: Cash Sniper
Owner: Ray Pickard

Website: CashSniper.co

Price: $9 + Upsells
Rating: 1/10

Recommended? No, you are getting an eBook with outdated marketing material.

Alternative: If you want to build an online sustainable business with all the training, tools, and support to succeed at an affordable price then you should check out my #1 recommendation.

Read on for the Full Review
What is Cash Sniper About?
Cash Sniper is a new system that is suppose to help make you a seven figure income on autopilot. five minutes a day of work is all you need to make $25,000 a month. Ordinary people are using this system and receiving awesome results because of the ease of using the Cash Sniper System with minimal effort.
This does sound pretty great…But let's be realistic here….
These type of systems don't exist. I wish they did. It would make my life sooooo much easier if they did. But, No successful person is wealthy from five minutes of work. Just remember, if you come up with an idea, someone out there has already thought of it first.
People have been trying to create these autopilot ideas for a long time to make it easy for the average guy. ALL of them have disappeared and will in the future. Because they don't work. They're scams created by people looking out for their own wallet.
Daily Cash Siphon promises to make $395 daily with 7 minutes and 19 clicks. It's a scam.
Auto Chat Profits promises to make you $423 every single day after 14 clicks. It's a scam.
Five Minute Profit Sites promises to make you $519 daily with the work "done-for-you". Just five minutes and 17 clicks. It's a scam.
So how is Cash Sniper supposed to be any different? Especially when they are making even bolder claims than these other systems that have figured out the "secrets" or discovered the "loopholes" to making tons of cash online.
There are legitimate ways to make money online. Affiliate marketing is how I earn my income. I even sold one of my websites for $12,500. But this kind of success didn't happen overnight. It took time, patience, and an effort to have success. This is the only way you will make great money at a sustainable level for a long period of time.
Who is Ray Pickard?
So who is Ray Pickard? I have no idea…Lol. He claims to have made $26,202 his first week using cash sniper and no less than 25k a week for the last four years with less than 10 minutes of work a day.
Maybe he lives a secretive lifestyle, but you would figure he would've made some kind of headway for making so much money from such little work. Plus he claims to have been in a bad accident, but there are no stories on his car crash either.
I can assume the reason is probably because the guy doesn't exist. He's just someone hiding behind a camera that doesn't want to reveal his true self. Once people discover Cash Sniper doesn't work he can close shop and open up as a new business with a new name and product that makes the same promises.
How Does Cash Sniper Work?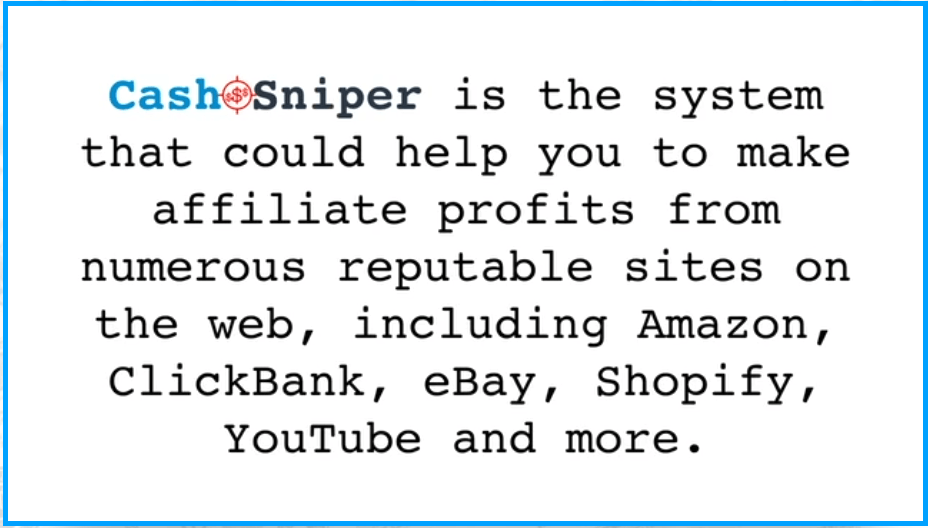 Quoted from the video:
"Cash Sniper System is the system that could help you to make affiliate profits from numerous reputable sites on the web, including Amazon, ClickBank, eBay, Shopify, YouTube and more. Each time that a customer makes a purchase through one of these websites, you take a cut of the profits."
In a nutshell, this is what affiliate marketing is and exactly how I make money online.
When you sign up for affiliate programs from these different companies you will get a commission every time someone uses your unique affiliate link to make a purchase through these websites.
You can make a ton of money. But, once again, this doesn't involve only five minutes of work like what's claimed from Ray Pickard. It's also not possible to make tons of cash overnight. Ask any affiliate marketing expert and they will tell you the same.
True Cost of Cash Sniper


Cash sniper isn't the only product sold. So let's go over what exactly you could be paying for.
Front End Offer
Cash Sniper System- $9
This is the first offer you will see. A system that tells you that you will be making $25,000 a week with just five minutes of work.
Upsells
Cash Sniper Secret Method- $197
If 25k isn't enough, this system will help you earn an extra $19,400 a week from secret targeted traffic methods. If you decide not to make the purchase, you will receive a discounted price of $147.
Cash Sniper X- $177
Cash Sniper X promises to earn you up to three million a year as an Amazon Affiliate.
Super Affiliate System- $997
This is a separate system than Cash Sniper. Super Affiliate System is a course created by John Crestani that is supposed to be a detailed, easy to follow training course designed to help you become a successful affiliate marketer. I haven't personally reviewed the system, but they have been around for a few years. Originally labeled as a scam, but the 2019 updated version has been labeled as a more legitimate product.
Inside The Cash Sniper System Member's Area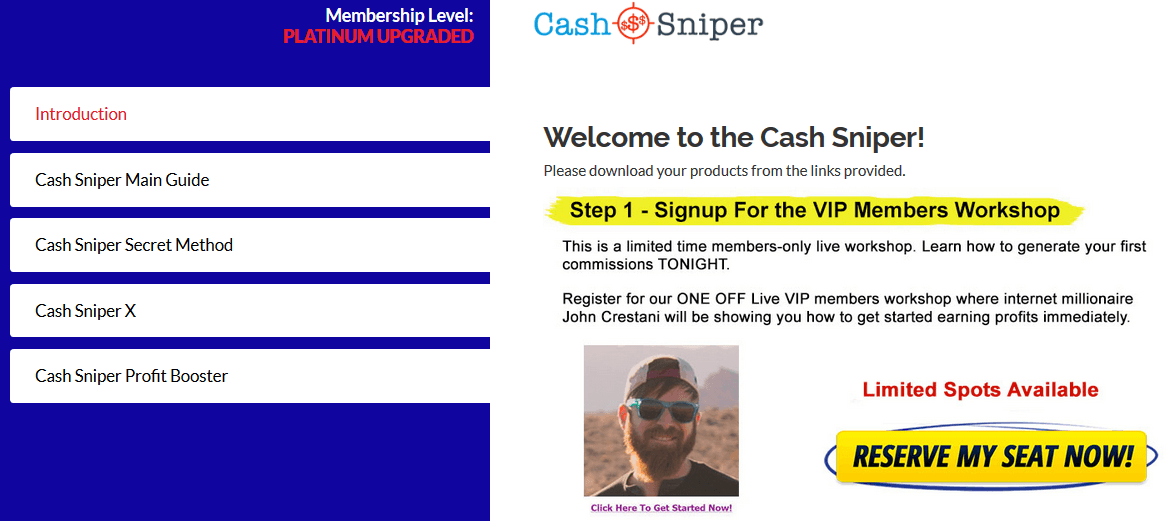 There are five sections inside the member's area including the introduction. Even though I did not purchase any of the upsells like Cash Sniper Secret Method I still received access to everything inside. So I will go over each section on the training you receive.
Introduction
There isn't any actual introduction into the system or what everything is about. But this is where step one is which is an upsell to John Crestani's Super Affiliate System, but advertised as a VIP members workshop.
In the workshop you are shown:
The best & easiest way to make money online with Clickbank and Facebook.
How you can tap into it right now and start generating $1,000 Per Day and 6-Figures online in the next 30 days.
You'll also learn the three top secrets to making the most money possible, earn big commission with other people's products and how the 3-Step System that psychologically forces people to buy your offers.
Seven Mistakes People make in marketing
The first hour or so can give you some value, but overall it's just an upsell into buying the Super Affiliate System. I have nothing against John's system, as I haven't looked at it personally yet.
But, you purchased Cash Sniper to make money with their system. So why do we keep getting upsell after upsell before we have gotten even a hint of training yet?
Including SAS, if you purchased everything you would have spent $1,380 before a drop of training is shown. It's gotten pretty expensive for only starting out at $9, hasn't it?
The sad reason why you are asked to spend all this money before you get access or receive any training is because you will be disappointed once inside. You won't spend any extra money once you see the training shown. So they have to pinch every dollar from you before your eyes realize the truth.
And the sad truth is….
The actual Cash Sniper System is just a bunch of eBook pdf files with basic information on affiliate marketing, Facebook ads, Youtube, etc…
There is no automated system that is going to make you millions every year like the sales video states. And I'm going to dive into the information you will receive right now.
Cash Sniper Main Guide
This eBook goes over what affiliate marketing is, how you make money, different methods of doing affiliate marketing, products to sell (though focused on MMO niche), and driving traffic to your offer. They list some paid and free traffic methods you can use.
The free methods involves posting in Facebook groups, Pinterest, Youtube, or writing reviews on your website. While all these methods can work, not all of them are great.
Facebook groups can work for example, but if you are just posting affiliate links in groups you will mostly get banned. If it is allowed, everyone else is doing the same thing. So your link will get lost in the cesspool of everyone else's affiliate links too.
Just one example from personal experience.
I did a short post about affiliate marketing in a Facebook group that everyone posts there links in. The group has over 100,000 members and I wanted to give some value and credibility with why you would want to use my services to earn money. Out of 100,000 people my link got clicked ONCE. I did this in similar groups as well and came out with the same results.
Tens of thousands of people and I got hardly any clicks and no sales.
The ironic part is the ones that post "Make $10,000 tomorrow" everyone comments and asks how and those people get sales. Of course, those are the scams that people will end up losing money on, but this tells me they only want easy ways when there is no easy way to make money fast online.
But overall, the point is this is not the best or most sustainable method of making money online. Definitely not a book with the secrets to a seven figure income.
Cash Sniper Secret Method
This is the $197 upsell before you receive access to the system. This eBook explains how to set up a website. You will need to pay for hosting($5 a month) and purchase a domain name($15 a year). After you will install WordPress.
Once you have your website set up the eBook jumps into email marketing without mentioning blogging. The main focus of the eBook is using solo ads to drive traffic to your website. If you go by their advice you will set up a landing page without any content or helpful information.
The main goal of your website landing page is to collect emails from visitors so you have a constant list of potential buyers that you can promote products too. There's two major problems I have however.
#1. Solo ads are not the most ethical way to collect emails and make money. You are paying someone that already has an email list to promote your products to their audience. You didn't ask for permission to send these people emails. It wouldn't be cool if the address to your home was being sold so people could come bother you with different sales pitches, would it?
#2. The second reason and I feel is pretty important too. You are restricted to basically only two niches. The health niche (weight loss, Fitness, skin care, etc…) and the Make Money Online Niche (Marketing, Forex, Crypto, etc..). While I don't know the statistics, I'm willing to bet 98% of solo ad traffic goes to these two niches. So If you wanted to build a business in the video game or beer brewing niche, for example, you would not receive any traffic to your affiliate offers.
There is some basics on social media marketing and Facebook ads, but not enough to have a good strategy in place for those traffic methods either.
Cash Sniper X
This is the $177 upsell you are offered. You are suppose to have a system that earns you up to three million a year with Amazon. However, this product has nothing to do with Amazon. Cash Sniper X is an 18 page eBook that focuses on YouTube Marketing where you will create videos and post them on YouTube to gain traffic.
You could do a product review, for example, and then have an affiliate link embedded in the video or posted in the description for those interested in what you are showing.
YouTube is definitely a great way to make money online and there are people that make millions every year, but the information you find here is very basic and can be found online for free. Obviously not worth the price tag to pay for.
Cash Sniper Profit Booster
This is the last informational product inside. Cash Sniper Profit Booster Focuses on teaching you how to build a blog. The main basis is building an Amazon Affiliate website where you will post product reviews of different products you want to promote (I'm guessing this is meant to be Cash Sniper X).
The information is outdated though. They talk about keyword density which isn't important anymore. They talk about getting backlinks, but every year google devalues their ranking power more and more. They state you only need to write 500-800 word articles, but the average word count for the top ten results in google is over 2,000 words.
So following this information will make it more difficult for your website to take off from the ground. Since you won't rank well you will, in turn, not gain traffic. No traffic equals no sales.
As you can see, after going going over everything you are purchasing an eBook that won't bring the kind of results that will propel you to a six or seven figure income.
Major Red Flags to Avoid Cash Sniper
Now that I've gone over everything let's take a look at the major reasons why you should avoid the Cash Sniper System altogether.
#1. False Income Claims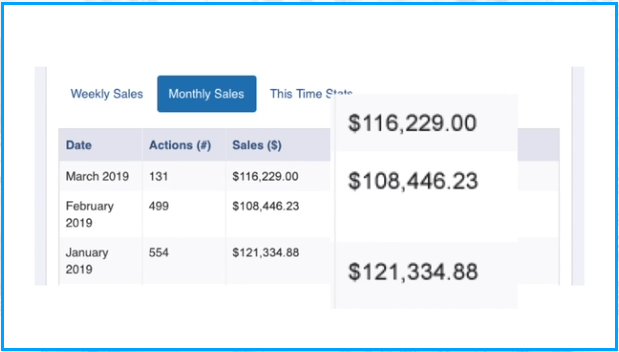 I already went over the fact this system is actually just an eBook on marketing. A very basic and crappy one nonetheless. So I don't think I need to convince you too much on how the "Income proof" is a bunch of BS so they can reel you in on a fish hook. Books aren't considered automated systems. So the income shown can get thrown out the window.
#2. Fake Testimonials
You are shown testimonials to convince you this is a proven system that works. But once again, it's an ebook lol. So these people claiming how they're buying houses and making sooo much money with this "system" obviously haven't even had a look inside before they made their fake testimonial videos. Plus you can find all these actors/Actresses on Fiverr. Take a look at my screenshots.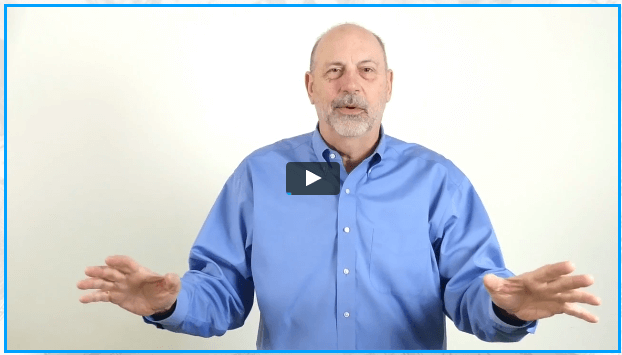 #3. It's Not a System
I'm probably starting to sound like a broken record so I'm gonna try to refrain from repeating this too many more times. But ya, Cash Sniper isn't a system that will make you money from five minutes daily of doing work. It's an eBook… Not even step by step training to show you a path to success.
#4. Outdated Marketing Methods
Of course, if the reasons above aren't good enough… This one should be. You are getting outdated marketing material that doesn't work anymore. Now, I'm not saying all of it is outdated because affiliate marketing is very much alive and thriving. But, the methods taught will only hinder your progress to a full time online income.
Who Is Cash Sniper For?
Honestly, no one. There's no point. The information is outdated and anything that is still relevant you can find for free online. Why pay $9, or $177, or $197 when a simple Google search will pull up the same info found in the eBooks?
Pros and Cons of Cash Sniper
In case you are just reading headlines and skipped everything I've talked about. Let's sum up the pros and cons of Cash Sniper.
Pros
60 Day Money Back Guarantee
Some Basic Marketing Material
Cons
Won't Make Money
False Income Claims
Fake Testimonials
Outdated Marketing Methods
Is Cash Sniper a Scam?
Yes, in my opinion, Cash Sniper is a scam. There's nothing good about this eBook, I mean system…You're lied too about the money you will make, you receive the upsells whether you pay for them or not, you won't make money, and the material is outdated. Sounds like a con to me.
The Alternative
Now, I mentioned before I make money from affiliate marketing. This isn't some push button method, but it is what top marketers online use to make money themselves. It's the best method in my opinion because you get to create your very own business.
You decide what you promote (Slippers, Yoga Mats, Beer brewing equipment, etc…)
You decide the content you create
You decide what kind of brand you want to be
You control the hours you work,
And most importantly the money you make is based solely on your own efforts
You want to make $500 a month extra? Great! That's achievable. You want a million dollar a year business? You can do that too! As long as YOU are willing to put in the effort, and I'm not saying it's going to be easy, you too can earn a great income online.
Of course, now the question is… How Do you get started?
You are going to want step by step training so you don't get lost. You are going to want the tools needed to succeed. And most importantly, you are going to want help or maybe a mentor to guide you along.
And that is where I come in. I'm apart of a Facebook-Like community that has everything you need to build your own online business. Whether you would be happy with $500 a month or $100,000 a year, that's your choice. The more money you want to make the more of an effort and time you will have to put in.
But, you will have the backing of an entire community of over a million people to help push you towards whatever your goals may be.
Now if you are interested, then you I suggest you take a look at the affiliate marketing training program that I used to help achieve my dream of traveling. The name is Wealthy Affiliate and I will be inside waiting for you to help guide you along your path to success if you decide to join.
Check Out my Wealthy Affiliate Review and I will see you inside.
Oh, and did I mention that it's free to get started? Just a name and an email address is needed. No credit card required to check out this awesome program.
If you want to skip on the review and just jump straight into the good stuff with a free starter membership. Then just click the link and join here.
I'll be waiting