July 27, 2019
The 13 Top Disadvantages of Affiliate Marketing for the Affiliate in 2019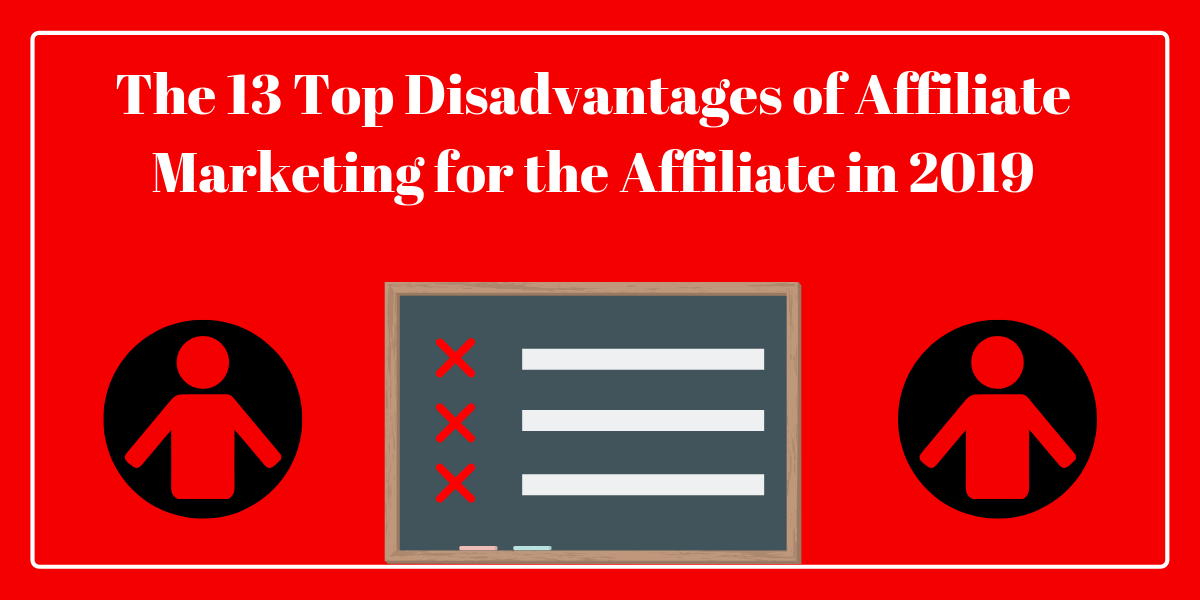 The other day I posted an article about the advantages of affiliate marketing for the affiliate in 2019, and if you read my article you would know there is tons of upside to becoming an affiliate marketer.
However, Affiliate marketing isn't perfect and there are many drawbacks to making money with this method.
This doesn't mean I don't recommend you choose this method of earning an income, but you definitely have to consider the good and the bad as this isn't for everyone.
Many people promoting the "affiliate marketing method" paints this ideal business model without ever enlightening people on the reality of the obstacles and hoops you have to jump through in this industry.
So Today, I'm going to touch base on some of these drawbacks and illustrate to you the 13 main disadvantages of becoming an Affiliate marketer in 2019.
If you have a disadvantage you would like to share then let me know in the comments!
#1. Affiliate Marketing Can be a Lonely Journey
Most of your family and friends don't understand what you do for a living, even if you try to explain it to them there is still some confusion and usually lost interest. It's hard to find other affiliate marketers on the street so you end up sitting behind a computer screen without any real social interactions throughout the day.
You can always communicate on forums and post comments on other blogs, but this will never give you the same satisfaction of having a face to face in person conversation of what's going on in the affiliate marketing world today. Good or bad.
#2. Some Affiliates False Advertise Creating a Bad Reputation
You put your sweat and tears into your affiliate marketing business. It's hard work but you know the results will be coming in soon. Problem is you are not making as many sales as you should even though you have a great product. The reason why? Because there are others out there marketing the same product under false pretense.
The extremity of this will vary by industry but this can give the company a bad reputation (even though it's not exactly their fault), and cause people to be more skeptical of your suggestion because of other affiliate's actions.
I promote Wealthy Affiliate as the main product on my website because they are one of the best affiliate marketing programs in my opinion (and ya I do get a paycheck from them…though this doesn't change the fact they provide a high-quality service and you can see that in my WA review).
They don't hype up the amount of money you are going to make or claim the income will come fast. You are building a business and these take time to profit. But there are other affiliates that are going around spamming Wealthy Affiliate claiming you will make 10,000 a month in Facebook groups right away.
These are the ones that care more about making a quick buck than the actual product they are promoting causing you to lose out on potential income you might have received.
#3. Can Cause Health Problems
If you are affiliate marketing you are probably sitting in a desk or chair all day. If you are like me you are moving your head closer to the computer with out moving the rest of your body. Humans aren't meant to sit all day. You need to sit in the right chair and stretch periodically. Sitting all day can lead you to having bad posture, back pains, and can even make you dummer. If you don't take the correct measures.
So while it can be great working for yourself in the comfort of your home (or office), you still need to take care of your health to feel great after a days work.
#4. Have to Motivate Yourself
Being your own boss is a blessing and a curse all at the same time. You get to control what you do and when, but at the same time you don't have the accountability to keep you from slacking off. You never "feel" like working. As I write this I'm really not in the mood too lol. You need to push yourself to get to work. Nobody is there to roll you out of bed to force you to work and it's not always easy if you are like me never in the mood to work.
One interesting video I did come across may help you with this problem. Mel Robbins a TedX speaker talks about why motivation is garbage and how she overcame it with a super simple trick. It's a pretty motivating video about why motivation is garbage. It's a bit long, but well worth the watch. So save the video if you don't have time to watch now.

#5. Getting Established is a Long Process
Affiliate marketing isn't a make money overnight concept. It takes hard work and patience to succeed. When you first start out there's a learning curve to the process. You gotta learn to crawl before you can walk. While a few will have great success right away, they are the exception to the rule. Not the standard.
For most people it can take months or even longer than a year before you earn your first dollar. But don't take this as discouragement, because you have to remember you are building a business. Once the money starts trickling in, an avalanche could be on it's way in a short while as long as you keep at it.
#6. You Don't Control the Affiliate Program
In the beginning you may choose a product to promote that you have really enjoyed and pays large commissions. But later on the merchant could decide to lower your commission.
An example of this would be Amazon. They are considered one of the biggest and best affiliate programs in the world due to their large online presence and the huge amount of products they sell. I mean you can pretty much buy anything you'll ever need from them. Diapers, shoes, food, refrigerators, electronics, clothes, etc…
There's not too much you can't buy from them. If you have a website about "Best food for your dog" and you recommend a specific healthy dog food you will get commissions on everything purchased on Amazon. About two years ago Amazon decided to change the commission structure causing some affiliates to lose a percentage of income.
While upsetting, there's nothing you can do except find another affiliate program that can help make up for the lost income with better commissions.
You should never put all your eggs in one basket, and Amazon changing it's affiliate commission structure is proof relying entirely on one affiliate program is not a smart choice.
#7. You are Not Guaranteed an Income
Some businesses succeed, others fail. While the concept of affiliate marketing is simple, driving targeted traffic to your affiliate offers is difficult. Because of the length of time it can take to earn your first dollar many will get discouraged and quit a few months in. You need to separate yourself from the bunch and keep pushing. You need to treat this as a business, not a hobby.
You also need to have some faith that this will work for you because it truly can if you keep learning the craft and putting forth the effort. On the other-hand, some people are just not cut out to do this business. You need to ask yourself if you are one of them.
#8. You Might Not be Cut Out for This
I try to keep my expenses to a minimum, but I do travel so I've been living in dorms for the past year. I've met many people that ask and become interested in what I do for a living. But when it comes to certain aspects of the business, like writing a ton of content, some will tell me that it's not something they want to do for a living.
There's good money in affiliate marketing if it fits with your persona, but some people just can't be bothered to write for a living like myself. It's OK. I get it. This is the most writing I've done in my entire life. I didn't even read much books as a kid.
Only work I did in school was projects, tests, and quizzes. Homework and anything related was too much of a bother for me. But there's a "Why" to why I've chosen this path and that's what keeps me moving forward. There are plenty of other ways to make good money online or offline. It's up to you to decide if this is something you want to commit to for the long-term.
#9. You May Run Into Bad Affiliate Partnerships
This has never happened to me personally but in business you have good partners and bad partners. With affiliate Marketing there is always the possibility the company goes out of business and shuts down their affiliate program. If you have pending earnings there is always the possibility you won't see the money you have earned.
#10. There's a Lot of Competition
Whether you are in the travel niche, Health niche, sports niche, or any other, there will be well established blogs that can create stiff competition. On top of that, every year you have more and more people starting their own affiliate marketing businesses.
This is why it's important to break down into a sub-niche. Instead of health. You could focus on Yoga. However, Yoga is still very competitive. This means you want to break the niche down even further. So you could do Yoga for back pain relief instead. There will be less competition in a smaller niche making it easier to earn an income.
Later on, after you have established an income generating website, you could expand into other areas of Yoga.
Yoga for better balance.
Yoga for pregnancy
yoga for elderly woman or men
These are just a few categories you could expand on afterwards. There will always be competition no matter what niche you do, but narrowing the niche will make the competition less fierce.
Previously I had a rideshare website that mainly focused on driving for Uber. Slowly I started expanding on the niche by writing about Lyft as well, another rideshare company. This was a niche I was knowledgeable in because I drove for them, and when I was doing research one day I realized the competition was low.
The website was a success, but was always meant to be temporary. So I sold my rideshare website to put my focus elsewhere like this website you are on.
#11. Choosing the Products to Promote
This sounds easy, and if you are in a niche you love you probably already have a few ideas of what you could promote. But this is a crucial step you need to really think about. Many people will gravitate towards the products with the best commission, but this is not always a great idea.
As an affiliate marketer you are building a brand and the highest commissions is not always the best products. You don't want to have a reputation of selling junk as this can hurt your future income and the trust of your audience. You want to sell ethical products that you know will work and people will truly enjoy.
On Lifeless Wallet the main product I sell is an affiliate marketing training program, and while the commission is good, there are many unethical products that I could sell for a much higher paycheck. But I'm not willing to back these products and services because people would be disappointed in what I'm selling if I did.
Instead I promote what I have used and has worked for myself.
#12. There isn't Much Support
Unless you join an affiliate marketing training program with some kind of forum or community to communicate with you are tackling this business on your own. Any problems that arise you have to figure out yourself. This can become stressful and cause headaches.
The place I receive support from is the the program I've been apart of for the last four years. They have a Facebook-like community for people who want to create an online income. It's all-inclusive so you don't have to worry about purchasing anything else except a domain name which only cost $10-15 a year.
#13. You Lose out on Income
What's better than promoting other people's products?
Promoting your own products.
Whether it's an eBook, training course, or physical product, creating your own products will earn you substantially more money because you can claim 100% of the profit for yourself.
While affiliate marketing is a great business, especially for someone just starting out, there will be a point in time where you should consider creating your own product. Not only to earn more money, but also to diversify your income even further. Like I said earlier, don't put all your eggs in one basket.
There are Still Positives to Being an Affiliate Marketer
While the focus of this article has been on the disadvantages of affiliate marketing, there still is an upside that makes this business worthwhile. You have the opportunity to escape from the dreaded 9-5 and live your own lifestyle. I can't remember who said this, but it went somewhere along the lines of this:
Most people look forward to only three days of the week. The later half of Friday because you are free from work, Saturday, and Sunday. This means more than half the week you despise and are miserable and that's a problem. You need to create an environment where everyday of the week is a day to look forward too.
I might've added my own twist to the quote but the point is affiliate marketing gives you the opportunity to look forward to each day of the week. You should not live despising over half the time you are living and affiliate marketing affords you the opportunity to create an environment in which you can look forward to everyday.
You just need to have the patient, learn with an open mind, and take action on the newly acquired knowledge because there is way more upside to affiliate marketing than there are disadvantages.
What are the disadvantages to affiliate marketing for you? Do you believe it's still worth it to become an affiliate marketer? Let me know in the comments I would love to hear what you have to say.