September 1, 2015
Vemma Nutrition Company, An Illegal Pyramid Scheme, Shut Down By The FTC- It's About Time.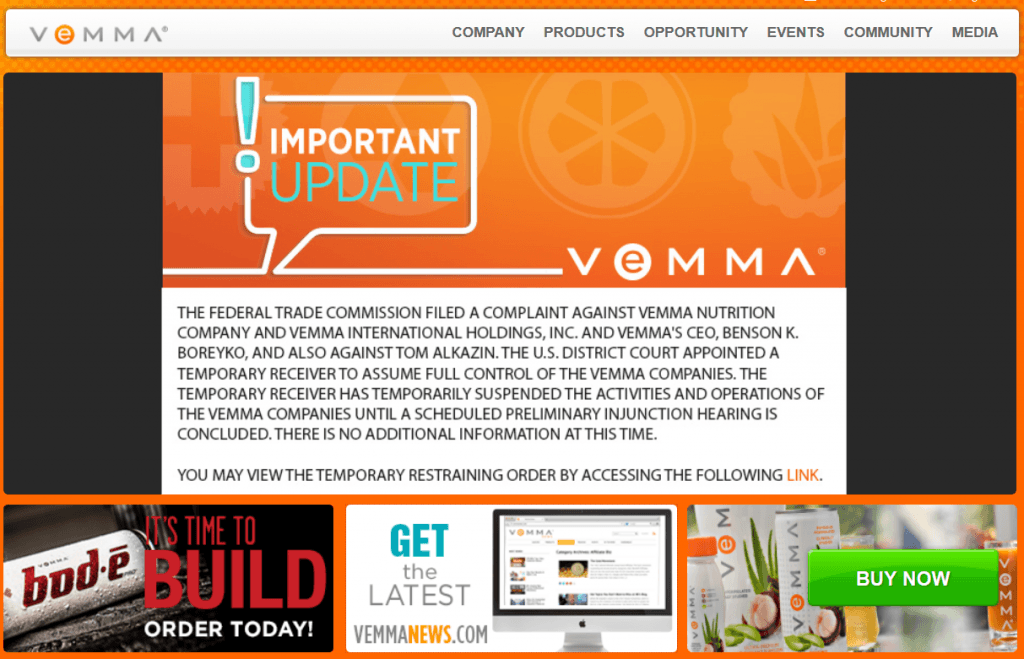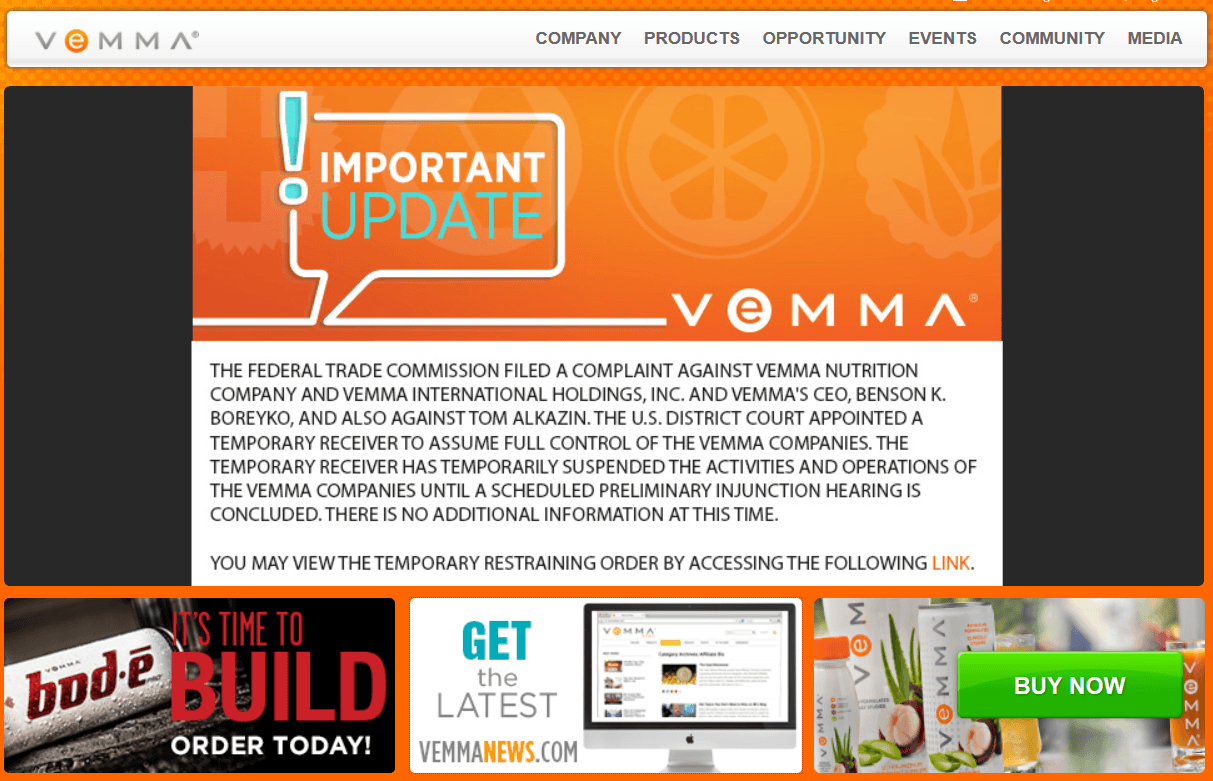 Finally, some light has been seen as another crooked scam has finally been shut down by the FTC (Federal Trade Commission). Vemma Nutrition Company, an Arizona-based dietary supplement MLM and energy drink company, has finally been accused of working as an illegal pyramid scheme. It took a two-year investigation of the companies marketing practices to finally realize that this company is just not the hype it was meant to be.
TINA.org lead the charge for this investigation, as their mission is, " dedicated to empowering consumers to protect themselves and one another against against false advertising and deceptive marketing." This should come to many as no surprise, about the shut down. In May 2015 CBS5 news, an Arizona news station, did an investigation of their own to expose Vemma as a scam. You can watch the video below.

This Company Has Been In Trouble For A While
Tina.org also had been warning people about Vemma since 2013. Many college students were targeted to join, and many parents feared kids were choosing Vemma over College.  Other countries, as well, have taken legal actions towards the Multi level Marketing company. The company has been suspected as a pyramid scheme on multiple occasions. CEO, Benson K Boreyko, also was not performing in his first rodeo. In 1999, New Vision International got shut down by the FTC. This company was run by the one and only, Benson K. Boreyko. In this company, Boreyko made claims that some of his products cured attention deficit hyperactivity disorder(ADD/ADHD).  The screenshot of text below comes from the FTC.gov website.
---


---
How did Vemma Start?
Important Update: Court rules that Vemma Nutrition Company is operating as a pyramid scheme and forbids the company from resuming normal operations. The courts have appointed a monitor to oversee it's business practices.


In 2004, Vemma Nutrition was founded. Established by BK Boreyko, his mission was to help others by, "Enhancing their well-being, and offering an income stream to people who introduce others to a product line they believe in."  The sad truth though; Vemma can't even make health claims that the product actually works. Don't get me wrong, there are thousands of products that aren't FDA approved. But the fact is, How can you "enhance someones well-being" when there is no hard science proof that it actually works?
With Vemma, you are buying an overpriced energy drink, due to how MLM compensation plans work, that doesn't have any support that it's actually a healthy product to consume. I do not feel independent case studies, performed by the same company, provide enough data to provide solid ground for a products benefits.
Vemma didn't really headline until 2013, when it first started getting getting recognized as a pyramid scheme. This was also the year it made over 200 million dollars in revenue. This same year the company proclaimed to be an affiliate marketing company instead of an MLM company although they were apart of the Direct Selling Association. The DSA represents direct selling companies, primarily ones that use MLM compensation plans.
In these recent years, Other Countries have been scrutinizing Vemma as a pyramid scheme. Italy deemed the company a pyramid scheme, and fined Vemma approximately $140,000 in U.S. money. Currently following pursuit is Switzerland and Austria. Of course most recently, The FTC is taking grounds for the case temporarily shutting the company down, and freezing all assets. A hearing is set for September 3rd.
Better Business Bureau Recognized Vemma with An A+ BBB Rating
Take it with a grain of salt. The BBB is not what people cut it out to be. You can have 200 complaints in the last year, and have an A+ rating. All you have to do is pay the membership fee to get accredited and receive a high rating. If that's not the case, Then why do legitimate companies like Google and Microsoft receive a D- and F, while Vemma, who just got temporarily shut down by the FTC for being a pyramid scheme, gets an A+?  After news struck that Vemma got shut down, The BBB did remove Vemma's rating to be re-evaluated. In the past the BBB even shut down part of its branch (BBB of Southland) for handing out high ratings for paying businesses. It took a two year investigation for the branch to finally be shut down.
Products That You Are Sucked Into Buying
When you join Vemma's pyramid scheme, you will be pressured to purchase a $500-$600 affiliate starter pack. You will then have to get others to purchase the same starter pack that you just purchased to recoup your losses. The package comes with a variety of energy drinks, vitamin supplements, weight-loss products, and tools that are suppose to help you succeed in this business opportunity. Each Affiliate Starter Pack will come with:
1 pack Vemma
V2 Fridge Brick
4 cans of Vemma Renew™
Vemma Co Q10
Vemma EPA 1000 Omega-3
Vemma Coral Calcium
48 cans of Bod•ē Pro™ Build
24 cans of Bod•ē Pro Burn
4 cans of Verve®
4 cans of Verve Zero Sugar
4 cans of Verve Bold®
4 cans of Verve ParTea™
4 cans of Verve Remix™
Vemma Success Kit
90-day free trial of Back Office Pro
The Success kit comes with very little training. Most of the information contained inside consisted of magazines with "success stories" and product information. The clinical studies were also provided. While some of the material may have been inspirational, most material was not exactly "training" material.
After you made the initial startup cost of your "business", you need to keep purchasing around $150 dollars worth of products every month. This is so you can keep qualifying for your bonuses. Which is just another way of increasing revenue for the top people in the company. A lot of the college kids, that joined, just let the product they purchased pile up in their rooms. You weren't rewarded for selling products; you were rewarded for selling the opportunity and gaining recruits.
Most "Affiliates" Lost Money
For all the members out there that will still defend Vemma until the end; I'm sorry. It's time to give you some cold hard facts. In 2014, 80.2% of all members made $1,212 dollars. When you add up your initial cost plus your recurring monthly cost; That would mean about 80% of distributors would have lost money. Considering all the hard work you put in cold calling, you are making less than minimum wage. Not even enough to cover your business expenses. Do you really want to risk all that money trying to defy the odds of you actually making it big?  Here's an even more astonishing truth. 1.62% of over 100,000 members earned over $44,100 dollars or more. So now really think about your chances. There are very few millionaires, and not enough to give you a fighting chance of success. How do you like the odds of making it now? You can look at Vemma's income disclosure here(update: Vemma is now apart of Bode Pro)(Vemma took down 2014 income disclosure, so I put 2013 in instead).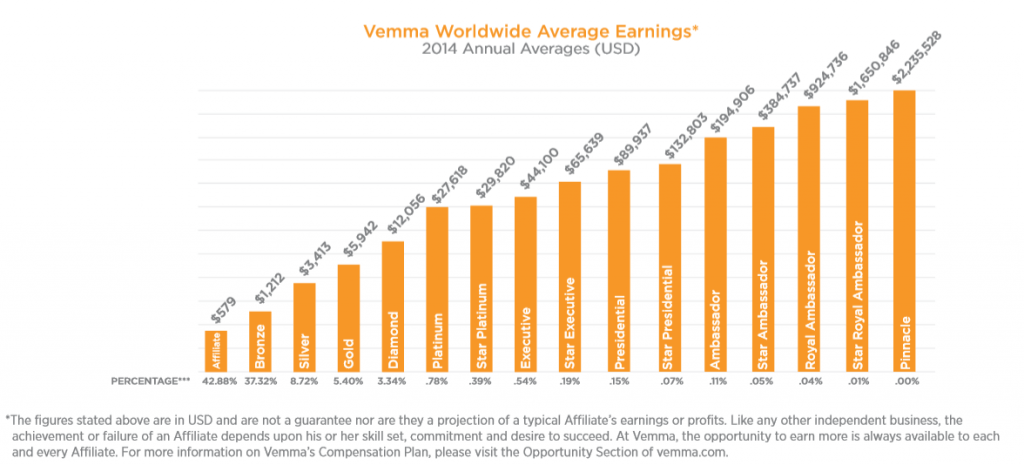 Alex Morton-Former Royal Ambassador of Vemma
The best people to here the opinions from, about a scam, are the ones that had been a part of the scam. They know the inside scoop of how everything works. If you have been doing research, you may of heard of Alex Morton, a previous brand ambassador of Vemma. He left about a month ago from the company. Before he left, he built a team up of over 15,000 members. Hitting one million dollars in career earnings in May of 2014. He was an avid speaker for the company. Towards the end of his reign with Vemma, he started to not feel right about the Company. His father realized that Vemma's numbers were declining as well. Alex realized that his team was not growing. Finally he made the decision to leave after doing research for another MLM company. Below is part of his statement, to clarify the air, about his knowledge on Vemma being investigated by the FTC. You can find the information at behindmlm.com.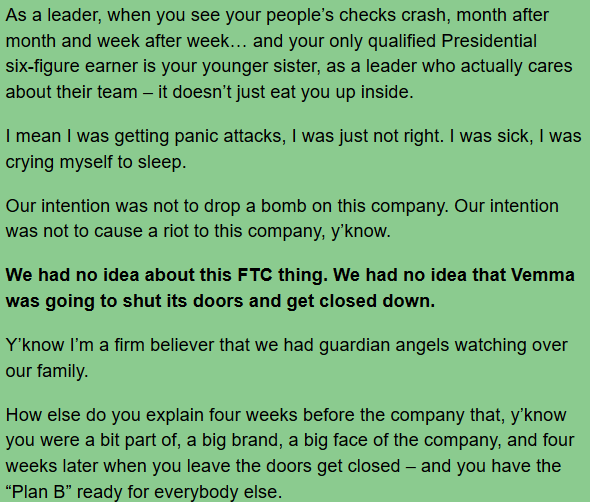 I think his statement pretty much sums up how well his team was doing. The only other person on his team making six figures was his sister, while he watched the rest of his team struggling to make any money back.
Why Have So Many Fallen Prey To This Scam?
A majority of the people that had joined were college kids. Vemma even started what was called the " Young Peoples Revolution." College kids were typically easy targets. Most are looking to go from "rags to riches" fast. If they can get out of going to college early, why not? Many of the complaints sent to the FTC were not even the affiliates. Instead it was their parents that were complaining. Many families relationships deteriorated from this companies false promises and unsubstantial health claims.
Kids were convinced that this was that ticket to paradise and lavish lifestyles. One friend joined, and then another one joined, until you either weren't friends anymore or you were both sucked into the trap and robbed of your money thinking the opportunity was real. How your friends got you to join was usually by simply asking them to come "hangout" at your house. Then when they show up, and are already stuck listening to you, you go ahead and introduce them into the business that is suppose to create" health and wealth" for you. This is how so many people got suckered in.
It reminds me of the time when I was invited to my ex-girlfriends house for dinner with the parents. It was close to the holidays, and I had thought nothing of it. Then when I go, it turns out, they had set up a presentation for like 30 people to show Amway's business opportunity. Admittedly, I had joined after they kept trying to convince me to join, and how it will "set me free" from the 9-5 lifestyle.
When I joined, I was still not convinced it was right for me. I mainly joined because I didn't want to keep being hassled about it. In The End, I've received one $50 dollar check from Amway. This still put me in the hole after you deduct the expenses for signing up and purchasing products. Lesson Learned.
Whether Or Not Vemma Gets Permanently Shutdown
However the court hearing goes; it will more than likely set the tone for the rest of the MLM companies out there. My word of advice for all Vemma Affiliates out there; Find a new opportunity. Even if Vemma is still allowed to operate after the hearing; you should not want to take your chances with this company. Less than 3% of affiliates make a live-able income, so why waste your time and money on a high-failure business opportunity? Even Alex Morton, One of the Top Performers, left Vemma. This alone, I think, really says something about the company. Of course, I have no doubt that the company will be shut down. In my opinion, Vemma Nutrition Company is an illegal pyramid scheme that preys on the youth. It deserves to be shutdown. I wouldn't even recommend getting into another MLM company. You never know which ones are actually legitimate, and there are better ways to make money instead of hustling your friends for profit.
Questions and Concerns
If you found this review helpful, Please share with your friends. Let more people see that these are types of companies to avoid. Don't let your friend get scammed. Please Comment below if you have any questions or comments to make about this post. I would love to hear your thoughts. Were you part of this elaborate pyramid scheme? Do you know a friend that was? What other companies have you been scammed by? Do you think Vemma will win the fight?