November 28, 2017
Is Survey Junkie Legit or Full of Junk?
Over the past year I've stumbled upon Survey Junkie a few times, even signed up once (though I don't remember doing it), but never got around to testing them out. Well, recently I came across them again and decided to see if you can make some money using their website.
Everyone has an opinion and it's always cool to be paid for your thoughts.
After review, I'm here to answer the question "Is Survey Junkie Legitimate or a scam full of junk, and can you make money with them?"
So, Let's get started.
Quick Report:

Name: Survey Junkie
Website: SurveyJunkie.com
Price: Free to Join

Upsells: No Hidden Cost
Rating: 7/10

Recommended? Yes, but limited earning potential

Alternative: If you have the time to take surveys all day, Your energy would be spent better by learning how to build your very own online business here.

Read on for the Full Review
What is Survey Junkie About?
In short, Survey Junkie is a legitimate website that connects you with brands that are looking for your opinion to improve their products. There are a variety of surveys, with different lengths of time to complete, that pay different amounts of cash for you to take them.
The website is laid out in a very friendly user interface making it easy to navigate and take surveys.
How Does Survey Junkie Work?
It's a very simple process to get started with Survey Junkie.
You sign up for a free account (

It should never cost anything to make money taking surveys, those websites are scams

)
Fill out your profile
Take Surveys
Cash out!
Countries Survey Junkie is Available in
At the time of writing this there are currently only 5 countries you are allowed to use Survey Junkie in. They are:
U.S.A
U.K.
Canada
Australia
New Zealand
If you are not in any of these countries than you will have to find another program to earn money with. I recommend learning how to build your own business with this program.
Here's How Much Survey Junkie Pays You Per Survey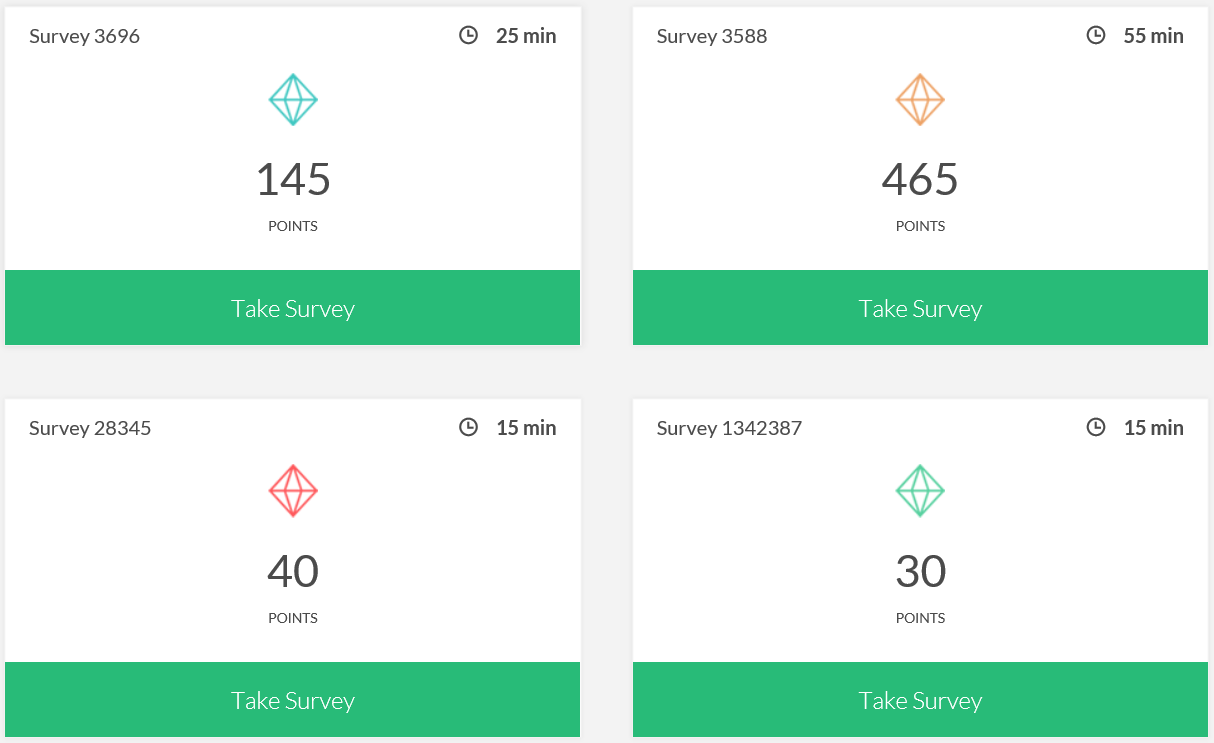 When you take surveys at Survey Junkie you are paid in points. Each point is worth one penny.
Every 100 points= $1
Every 1,000 points = $10
Every 10,000 points = $100
and so on…
When you choose your surveys you are told two things:
The estimated time it will take for you to complete the survey
The amounts of points you are going to receive in said survey.
Looking at the above screenshot there are four surveys.
The first survey pays you 145 points or $1.45 for taking a 25 minute survey. Do some math and you are averaging $3.48 an hour
The second survey pays you 40 cents for 15 minutes which averages out to $1.60 an hour
The third survey is the highest paid survey, but also the longest taken almost an hour to make $4.65
With those kinds of averages I recommend survey taking more of a hobby to do when you are bored than trying to create another stream of income with it.
The best survey I personally took was a 3 minute survey for $1.20 which averages out to $24 an hour, but they are very few and far between. Definitely not enough to create a big enough income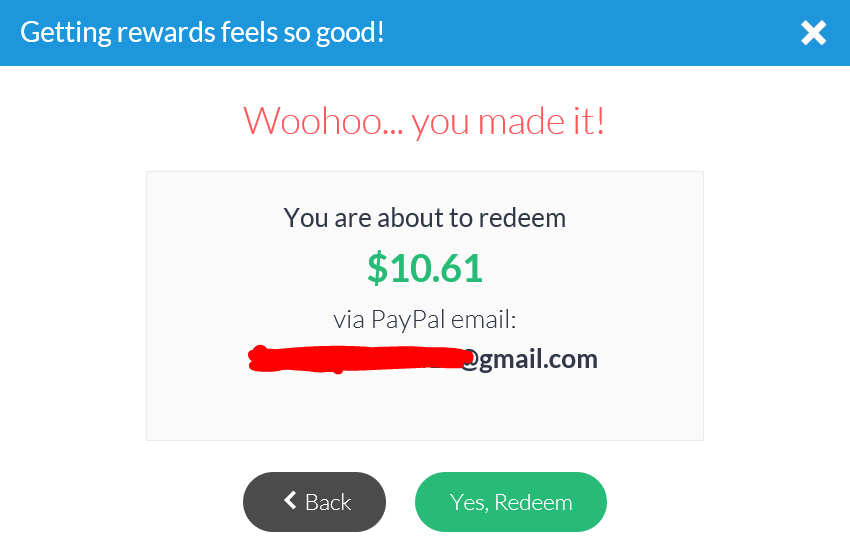 The money isn't great, it's not even good in my opinion, but yes you can make money with Survey Junkie. It just depends how much you are Ok with earning.
I took enough surveys so I could cash out my earnings and I probably averaged around $1 or 2/per hour.
While the work is very easy you aren't going to earn much more than some pocket money taking surveys here or any survey site really.
Does Survey Junkie Really Pay You?
When I reached the minimum threshold to cash out ($10 is the minimum), I was pretty excited. Even though it took longer to reach the threshold than I would hope, it always feels good when you see money pop up in your bank account (in this case Paypal).
But, I had a hiccup when I went to redeem my points for cash in my Paypal account. You are required to verify yourself (nothing too personal besides your address) and when I filled out the details and hit submit I was told my information was already verified on another account.
I was even kicked out of taking more surveys because of this issue and got worried I wasn't going to see my money. I was told to contact support because of the verification issue and so I sent them a message telling them this was my main account and I don't remember any other account.
While I'm not sure what they did to rectify the problem, I received a prompt response a day later telling me the issue is fixed and to verify myself again.
So I made an attempt to redeem my money and was successful the second time round.
When you redeem your money you are told that it can take up to two hours to see your rewards, but the second I cashed out I logged onto my Paypal account to see the money sitting in my account which was the fastest I had ever been paid by a survey site to date.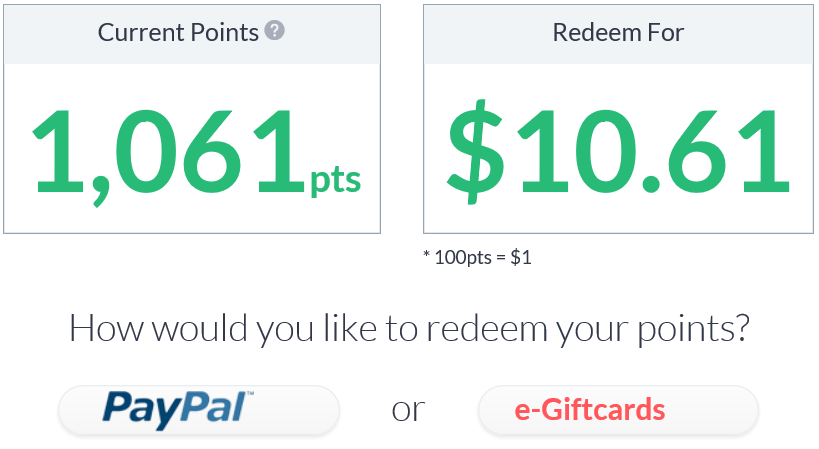 How Survey Junkie Compares to Other Survey Sites
I've tried a half dozen different survey sites up to this point (Here's the first survey site I ever made money with in case you're wondering), and between the user friendly interface, simplicity of taking surveys, and the fact that when I cash out the money was instantly in my bank account makes Survey Junkie one of my favorite sites to use when compared to other survey sites.
However, me personally, I feel most survey sites are a waste of time because there are much better and more lucrative methods of earning money online. You can't make a full time income online taking surveys, but you can building an online business with this free to get started training platform.
Who Is Survey Junkie For?
Survey Junkie is for anyone that is just looking for some extra pocket money for maybe the movies or a rainy day. If you are someone that loves sharing your opinion and don't mind being paid very little for it then it can be a fun thing to do.
Pros and Cons of Survey Junkie
So now that we have talked a bit about what Survey Junkie is and how you can make money, let's talk about the pros and cons of the website.
Pros
You can make money taking surveys
You can cash out instantly once you reach the threshold
It can be fun giving your opinion
It's free to sign up
Cons
Only average a few dollars per hour
Might disqualify for more surveys than you do qualify for
It's always repetitive re-entering your age, income, location, etc… every single survey
Biggest Complaints about Survey Junkie
From my own experience and from reading reviews of other members that have used Survey Junkie, there are only three major complaints that I can really see with this platform.
1.) It Takes hours to earn a few dollars.
You are never going to earn a full-time income taking surveys online. But, I know a lot of people join survey websites in hopes that they can supplement or even replace their current income. This would most likely be a complaint with every survey site you ever take though.
2.) You disqualify for more surveys than you qualify for.
This is one that always annoys me. I hate having to attempt five different surveys before finding one that will actually allow me to finish and receive a reward for. The most annoying part about this dilemma is sometimes it isn't until you are more than halfway through a 20 minute survey before the system tells you "sorry, You did not qualify".
I hope one day they will get better at sending you qualifying surveys with all the data that they collect from us.
3.) There are huge amounts of complaints of people not being able to cash out their money that they earned.
This is by far the biggest complaint and part of the reason I became so worried I wasn't going to receive my money. However, I've seen Survey Junkie make a big effort with these complaints to rectify them, but I can't say how many have been resolved and how many people actually contacted support before complaining.
Nobody want's to waste their precious time doing something only to get gypped out of your money. I myself ran into an issue with getting my money, but as soon as I contacted support the issue was resolved.
Is Survey Junkie a Scam?
So, this is always the biggest question people have and ultimately want answered. Survey Junkie is not a scam and I verified that by taking the surveys, checking out other reviews, and cashing out myself to see the legitimacy of their payout system.
They don't promise you anything about getting rich, and are transparent with the earnings you will receive with each survey. The earnings aren't much, but they advertise themselves correctly in my opinion.
Final Verdict
Like I stated earlier, this is a website for anyone that just needs a little bit of pocket change. I personally won't keep using them. Not because Survey Junkie is a scam, it isn't (They are a legitimate, reputable company that has been around a long time), but because I would rather spend my time creating value with my own business.
I'd rather focus on increasing my revenue streams instead of making a few bucks an hour since there isn't much more potential than that.
What is your experience with Survey Junkie? Leave your review to help others form an opinion.
Skip the Surveys and Learn how to Build Your Own Online Business.