August 22, 2018
What is Survey Savvy About? Legit or a Scam?
There's so many 0ppurtunities to make money online sometimes its hard to tell what's what. Data entry, MLM's, Affiliate marketing, Survey taking, etc…
Today, I'm gonna talk about what Survey Savvy is about. The ways of making money, the legitimacy of the program, and if it's even worth your time.
Quick Report:
Name: SurveySavvy (Survey Savvy)

Website: Surveysavvy.com
Owner: Luth Research LLC, CEO Roseanne Luth

Price: Free

Upsells: None
Rating: 6/10

Recommended? No, not a viable full-time income stream

Alternative: If you want to spend your free time making money, then learn how to build your own online business to retire you from the 9-5 with this program.

Read on for the Full Review
What is Survey Savvy?
Hence, the name, Survey Savvy is a website where you can can earn money taking surveys. Every day there are businesses creating and trying to improve products for consumers. In order to perform well, business's pay third parties to perform market research to understand what the consumer's opinions are.
Survey Savvy is the third party performing market research and, in turn, pays a small amount of cash to consumers that are willing to spend part of their day completing surveys.
Not only that, Survey Savvy also pays consumers just for allowing them to track your website data. On the other hand, this may be to invasive for some people, but I'll get into this later on.
Who is Luth Research?
Luth research was founded in 1977 by Roseanne Luth, for the main purpose of connecting clients with customers through market research. Roseanne is one of the earliest market research companies to launch online and is constantly trying to improve the data collection methods and accuracy of the information to best improve business-customer relations.
How Does Survey Savvy Work?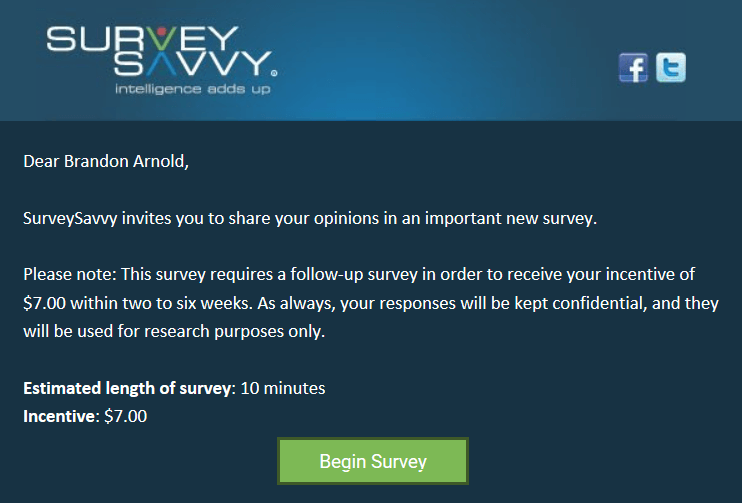 After completing your profile, the information given will be used to find surveys that you should qualify for. SurveySavvy will then send you an email invitation to complete the survey. However, you will be required to take a preliminary survey to guarantee you are the right fit for the survey you're about to undertake.
If you pass the preliminary survey,  you will receive the actual survey to complete. Afterwards, you'll receive the cash reward. This could take a few weeks to appear in your account.
The invitation email will explain the reward and length of time it will typically take to complete the survey. This can range from $10 for a 5-minute survey to a dollar or two for a 30-minute survey and anything in between.
How Much Can You Earn on Survey Savvy?
This can be a hard estimate to give because depending on the type of people companies are looking for, you could receive many or very few surveys.
The amount of each survey and time to complete is always going to be different, as well.
At the time of writing this, I have 9 invitations for a total of $23 and an estimated 2 hours 10 minutes to fulfill all of them.
While $10 an hour sounds nice, most of these surveys I won't actually qualify for, if any.
Even if I do qualify 100%, after the $23, I don't know the next time I'll receive an invitation. Could be an hour could be a few weeks.
What is SavvyConnect? Another Way to Earn with SurveySavvy
SavvyConnect is a part of SurveySavvy and another way to earn with the company. Though, not a way everybody wants to earn, it's very simple.
SavvyConnect is a software that you can download for up to 3 devices. Your laptop, tablet, and IPhone are your options. The software is designed so all your online data can be tracked. You will get paid $5 per device per month for installing and keeping the software active.
Nothing else is involved or required making this the easiest way to earn with Survey Savvy. That's $180 a year for allowing your data to be tracked on three devices.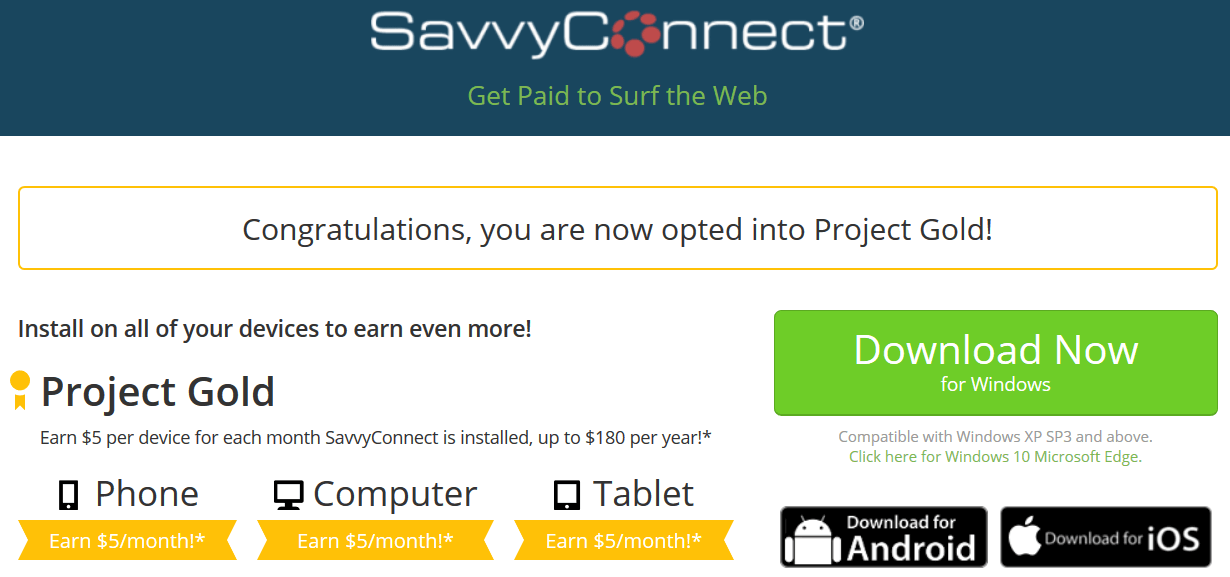 Now, while I did do this for a month to test it, it's really not a method that I think is worth the amount of information given for such a little payment. A years worth of data is gold for a business and $180 is less than gold to me. Is it something you would do?
Another advantage with SavvyConnect is you are given higher paid surveys. Moreover, The surveys require a lot more work.
The Best survey was $30 for 20 minutes. The survey was about grocery shopping and required you to download software to track your purchases and upload receipts anytime you bought groceries for a month to get paid $30
I was OK with downloading softwareand forgetting about it, But I was struck with a little bit of laziness and didn't feel like worrying about uploading any of my purchases.
It honestly wasn't bad for $30 and I know some people will call me silly for not finishing that survey, but hey, now you know what kind of surveys you will do. Right? For the higher payouts. On another time I probably would complete the survey.
How to Get Paid with Survey Savvy?
If there is one thing that's important about any money making opportunity, it's about getting your money lol. SurveySavvy is a little bit old-fashioned sending paper checks through the mail, but at least I know my money is on the way.
In order to get paid, you must have a minimum of a dollar in your account. This is nice since that's the least you can make on a survey and one the lowest thresholds for getting paid that I'm aware of for money making opportunities. Most survey sites require $10 minimum.


Once you reach the dollar threshold:
Go to account and request payment
You will be asked to confirm your mailing address to receive the check
Then you are asked how much you'd like to withdraw (pretty cool you can actually choose)
Wait the 2-6 weeks it takes to receive your hard-earned money
How SurveySavvy Compares to Other Survey Sites
Honestly, I took over a dozen surveys on this site before getting annoyed. I didn't qualify for a single survey! The only money I actually made with Survey Savvy was SavvyConnect, but it's a lot more invasive and I didn't want to continue with it.
SurveySavvy is for U.S. residents only so most people can't use it, and the only way to get paid is an old- fashioned check in the mail. This makes it difficult for me as I don't have a real home base at the moment since I'm traveling right now.
Every Survey site you use there will be a ton of time wasted on surveys that you end up not qualifying for, but if I was to pick a favorite survey site it would be Survey Junkie which you can check out my review about them here.
If you are sick of Survey sites like me and would rather learn how to build a full-time income, there's a program that will show you how to build your very own online business. You can even get started for free here!
Who Is Survey Savvy For?
If you are someone that loves sharing your opinion with companies and don't mind a little bit of pocket change as a reward for your time then this would be perfect for you. I just hope you can qualify for more surveys than the zero I qualified for.
Pros and Cons of Survey Savvy
Now that we've talked a bit about Survey Savvy, let's sum up the pros and cons to help make you a decision.
Pros
You can earn money taking surveys
You can earn money monthly just for installing data tracking software
Some surveys have a good cash reward (better than most survey sites)
You actually get paid lol
Cons
More difficult to qualify for surveys than most survey sites
Won't always receive invitations to complete surveys
No direct deposit or PayPal payment. Only check payments
Certain features are pretty invasive with privacy
U.S. only survey site
Is Survey Savvy a Scam?
Just to clarify, Survey Savvy is not a scam. It's a very reputable company that has been in business for 30+ years. You don't have to worry about not receiving any earned money you've made. Payments may take time and you won't always qualify for a survey, but Survey Savvy is one of the most legitimate market research company's out there.
Final Verdict
While Survey Savvy is a legitimate company that pays more per survey than most sites, it's not a company that I get very excited about. It's much harder to qualify for surveys which creates obstacles for those higher payouts.
Because 0f this coupled with the fact that you won't always be consistently receiving invites to complete surveys means this site isn't meant for much more than pocket change when you look at the time invested.
Now, if you are interested in signing up then use my survey savvy referral link to help out this website.
The Alternative
Survey taking can be fun, and it's always nice to have some extra pocket change, but it's not enough to making a living on. Personally, I build websites in different niches and make money through blogging. If you are looking for a way to build a full-time income online then, I feel, this is the best way.
It takes work, but with patience and putting forth an effort, you can earn enough to retire from the 9-5.
For more info on the program that taught me how to build an online business just click on this link here.