March 17, 2019
What is Explode My Payday About? A Scam or Legit?
If you are on this page then you must've heard about Explode My Payday, and came to see what all the hype is about. There's a lot of red flags in the promotional video, but I decided to purchase the product anyways to expose the complete truth. Honestly, I'm not impressed, but also not surprised about what I found. Is it a scam or legit?
Today I will be doing an in-depth review explaining what exactly Explode My Payday is about.
Quick Report:

Product Name: Explode My Payday

Owner: "Meaghan Harper"
Website: ExplodeMyPayday.com

Price: $47

Upsells: Yes
Rating: 0/10

Recommended? No, It's a scam

Alternative: No system exist that can produce $1,000 a day income results overnight. If you're sick of the "rat race" and working the 9-5 then learn how to build your own sustainable online business with the training program that I used to retire from the 9-5 work week.

Read on for the Full Review
What is Explode My Payday?
It's hard to truly understand what Explode My Payday is without actually making the purchase because there isn't any real information given about the product in the videos. Just a bunch of hype about how much money people are making magically overnight.
According to Meaghan, the spokesperson, "The Explode My Payday Method accounts for 92% of the internet 'gurus' generating income online. The method gives you the ability to manipulate and flow all the online traffic to your gateway (or website) which in turn produces transactions that you can make money from".
I find this hard to believe though because if everyone is using this method then how are you actually bringing the traffic to your website? Are you having a tug of war match with the other "Gurus" using the same method? They can't all be manipulating ALL of the traffic to their website at the same time.
Who is Meaghan Harper?
Meaghan Harper is the mastermind behind this brand new method. She talks about how shes made millions from this system and her students were making over $1,000 a day just 24 hours after starting this system.
Meaghan has been associated with other known scams as well like:
All of these previous products have used the same old rehashed video that you might've already watched on Explode My Payday. All these previous products promised the same kind of hype and all of them eventually disappeared.
The other thing to note is Meaghan isn't even a real person. She's a fake and the picture was just taken from a stock photo website which you can see in the screenshot below.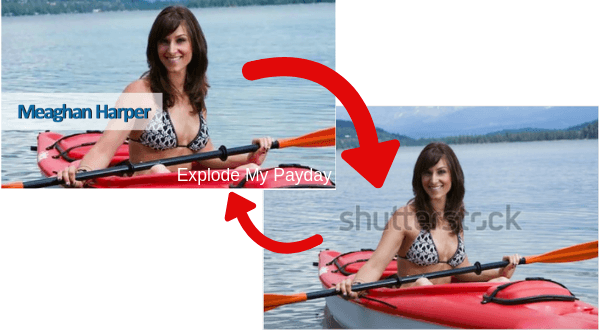 Fake Testimonials
Just like Meaghan being fake, the same can be said about the testimonials that are presented as proof of this system working. These are paid actors and actresses that were used in the video.
A product that doesn't work as presented is very hard to get real testimonials from people, so it's a very common theme for many scam products to hire actors/actresses to become their spokesperson to give the impression there are "average Joes" like you and me that can earn a huge income with just a click of a button.
You can see proof actors/actresses are used in the testimonials below as well the same ones from these videos showing up in other product testimonials.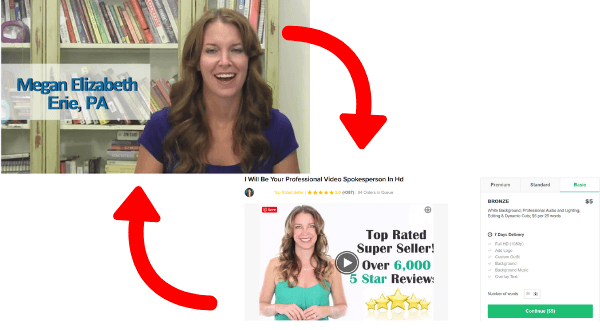 False Income Claims
As you can see, so far the video has been full of lies and deceit. So it only makes sense that the income is too, right? There isn't anyone out there that goes from zero to over $1,000 a day on their first day starting.
You can't grow money on trees.
There is no real proof of income being shown because all the testimonials are by people that have never actually used Explode My Payday. I'll talk about the members area in a minute, but the actual method taught inside is affiliate marketing.
This method isn't new either, and it's not taught the correct way inside the training. It's been around for a long time and there are many including myself that make money online through affiliate marketing.
The results don't come overnight. There is no system that can promise that. It takes a lot of time and effort to make the kind of income that Explode My Payday claims to produce.
Fear of Missing Out
One of the marketing tactics used in many scam products is the "fear of missing out (or FOMO)." Their product isn't great and they know it. At some point Explode My Payday won't exist anymore. But not because they are limiting the amount of people using this method. It's because people like you will eventually catch on, realize it's a scam, and go elsewhere.
When this happens they close their doors and reappear as a new brand with the same kind of hype as before. So to maximize their profits, you are told that "The system is closing their doors at midnight" or "I'm only allowing 45 people to get in before I take down this video forever."
This causes you to make impulsive decisions from the desire of wanting to live that "dream" lifestyle that "you can only get here." Which is the same case for Explode My Payday. But if that was true you wouldn't even be reading this article because the doors would have already been closed and you wouldn't have heard about them.
"This Video is Private"
Just like the there being limited spots and the system closing their doors at midnight, you are told not to share the Explode My Payday video with anyone else. "It's private and confidential" and she can't just share the program with everyone.
At the same time you are being told this, "Meaghan" is paying people to promote and "share" this very same video. It's another example of all the lies that's being told to people. You can go to ClickBank to get paid for promoting this deceitful video.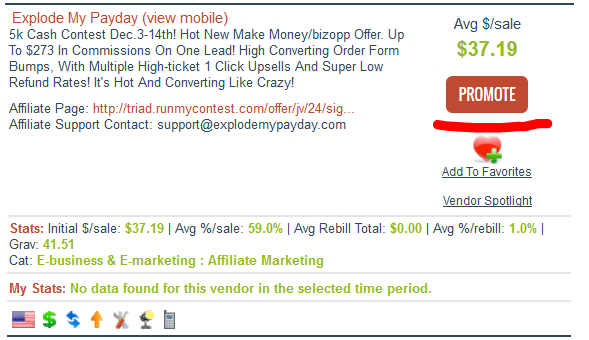 Inside The Members Area of Explode My Payday

There's two things you notice once you are inside the members area.
#1. In the video before joining you are shown supposed money you already earned with a new account that Meaghan set up for you (though we all know it was prerecorded). Once inside there is no account section showing you income you made. There's a lot of tabs on the left side that make it look more complicated than the simple set up explained earlier. So if you did join expecting money in your account I'm sure you're very disappointed.
#2. The Screenshot above is the first image I saw after joining. As you can see, before any training or guidance the first thing they recommend you do is upgrade to the Platinum Club Membership. I haven't even shown what I was told in the videos yet, but they already want more money after telling you they don't want a single penny from you.
VIP Members Workshop


Before you start the Explode My Payday Course, the first step asked is for you to register for the VIP Members workshop. The training is advertised as an extremely valuable free training.
"In less than 8 minutes you will learn how to generate $593 in daily profits from the comfort of your home"
Interested, I registered for the "live" webinar that just happened to start as soon as I signed up. Once inside the webinar, they act like they are live but this is just a pre-recorded video that ended up promoting another product for you to buy. The first hour went over the three steps of making multiple $500 commissions a day.
At first, I actually thought this was showing me what I would be doing in Explode My Day. The webinar ended up being a presentation of another product and how that one worked to earn you a ton of money.
The second hour was just a whole sales pitch for the program which cost $997. I ended up watching almost 2.5 hours of the webinar before I had enough and clicked off disappointed I didn't get any "valuable" training out of it.
What The Explode My Payday Course Is
After disappointment with the webinar, I checked out the rest of the website starting with the Explode My Payday Course since this was the actual product sold. The course ended up just being basic training on setting up a WordPress website even though Meaghan said this was already all taken care of for you.
You need to:
Buy a domain name,
Hosting,
Pick some affiliate offers you want to promote
Set up and test your pages
Then Drive traffic
In a nutshell this is called affiliate marketing.  All the training on the website was subpar and very basic. After each step you are recommended a product to buy for the specific step. Every purchase you make through the links on Explode My Payday earns a commission for them. They don't pick the best products for this, but more so recommend the ones with the highest commissions looking out for their own welfare instead of yours.
The recommended traffic source is Solo Ads. This is very cold traffic. You are paying someone with an email list to send your affiliate offer to their followers. In my opinion, you're just spamming people since they didn't give you permission to message them. This isn't the right way to do affiliate marketing and not worth $47 for the low-quality training being provided.
Cost of Explode My Payday
In the beginning of the videos you are told that Meaghan Doesn't want a penny from you. But once you reach the second video, after giving your email, she talks about how shes spending $10,000's every month between managing her team, server maintenance, etc…
She's not going to ask you for a single penny like she promised,"but" she needs a small investment from you anyways. Basically the small fee is because you have to own the account and online real estate for legal reasons that she can't take care of herself. These "legal" reasons mean you can't get paid without the fee.
So let's just into what you will actually be paying for this system.
Explode My Payday "Fee"- $47
$47 is the cost of gaining access in Meaghan's system before you supposedly start getting paid. If you refresh the page or try to leave a discount pop up should appear where you can buy the system for $17. That's how much I paid.
Upsells
Though the impression is the $47 is the only thing you're paying this isn't completely true. There are a few things you are asked to buy as well.
Six Figure Success Academy- $997
This is a completely different system that's suppose to show you how to make multiple $500 commissions a day. This is done through:
Finding someone with an online course
Helping them sell more with a unique template provided
Putting the online course in front of people who want to buy it
Platinum Club Membership- $19.95 a month
This is an upgraded membership part of Explode My Payday. Part of what included is:
Weekly Updates on Everything "Make Money"
Insider Tips, Direct From Seven Figure Marketers
Weekly "Secret" Updates From Explode My Payday on how to turn Your Business into 6-Figure Earnings
Blazing Fast Servers For Your Online Business
CoolHandle- Starting $10 a Month
This is a website hosting company that is recommended by Explode My Payday. You need this to complete the steps of setting up your money making system.
Clickfunnels- $97 a month
This is a sales funnel builder that is also needed to set up your system.
Solo Ads- $100's of dollars
This is the "secret" traffic generating method that's used for Explode My Payday system. You are paying people with email list to promote your products to their followers. The more traffic you want, the more you need to spend.
The Whole System is a Sales Funnel!
Honestly there are a lot more upsells to various products inside Explode My Payday, and just too many for me to list all of them. But you can see from what I've already listed it can cost $1,000's of dollars if you were to purchase every recommended product offered.
These aren't products Explode My Payday created themselves. Instead they are just 3rd party products that "Meaghan" and her team receive commissions on every purchase. Some may have good value while others are a bunch of crap like the system itself.
Who Is Explode My Payday For?
This system is for no one. Stay away! Even if you still want the basic training, which isn't much, there are better options. You can get more valuable training and two free websites with the program I use. Plus, they have a free starter membership!
Pros and Cons of Explode My Payday
Every product has good things and bad things. So let's go over the pros and cons of Explode My Payday.
Pros
Very basic affiliate marketing
60 day money back guarantee
Cons
Fake testimonials
False Income Claims
Low quality training
Upsells
the product may rent or sell your data
It's a scam
Is Explode My Payday a Scam?
I've gone over a lot today. So let me just summarize it up for you. Yes, Explode My Payday is a scam! Here's Why:
#1. "Meaghan" and the testimonials are all fake. So right off the bat you are being deceived and lied to. I don't trust anyone that lies to me before I give them a reason too. Would you?
#2. The fake income claims fits with #1. We are all trying to make money online. Giving these exaggerated and completely BS income claims shows they don't care about you, just your money.
#3. "15-20 minutes a day of work" is all you need to do to make $1,000 a day overnight. I already explained they teach basic affiliate marketing. Though it's the wrong way. Affiliate marketing is hard work that can't produce massive results overnight. Anyone that makes money this way will tell you so. Explode My Payday is suppose to be some "secret new method" but affiliate marketing isn't new.  It's another lie fed to you in the hopes you will buy.
#4. While there is a tiny bit of basic training the entire system is just a sales funnel for you to purchase others products. Some legimate, some not so much. You purchase Explode My Payday because that's suppose to be the final thing needed to start making tons of money easily with no experience needed. Yet, you are told to buy all these other products to make this system work.
Final Thoughts
Ultimately, it's up to you on your purchase decisions. I went over a lot today and have shown you the deceit and lies. I say stay away! This program isn't for you. They're just a bunch of con artist. If you want to learn how to do affiliate marketing the correct way and build an online money generating business.
Then you should check out the affiliate marketing training program that I used to build an online business. You don't have to worry about money because they have a free starter membership for you to get started.
Have you used Explode My Payday? Tell me your thoughts in the comments!