March 15, 2019
Auto Chat Profits Review- A Scam or Making $423.67 a Day?
There's a new money making system in 2019. Claimed to be so good, that the creators have earned profit for the last 336 consecutive days thanks to the power of automation. The name of the system is called Auto Chat Profits. Is it a scam? Or can you siphon cash into your bank account through a new "secret" method?
Today we will dive into these questions with a Review of Auto Chat Profits.
Quick Report:
Product Name: Auto Chat Profits

Owner: Unknown

Website: AutoChatProfits.com

Price: $37 + Upsells

Upsells: $471 in upsells
Rating: 1/10

Recommended? No, not the best way to make money through affiliate marketing

Alternative: Affiliate Marketing isn't a "secret" industry. It's been around a long time and is one of the best ways for anybody to learn how to build an online business. I recommend you check out the program that taught me how to earn money online with my very own online business. You can get started for free.

Read on for the Full Review
What is Auto Chat Profits?
When you visit the website the first thing you read:
"NEW For 2019! WEIRD Robot Technology
Siphons Us Up To $423.67 A DAY
With Shocking Consistency…"
Samantha, the spokesperson for the video, guarantees that this way of making money with these revolutionary robots is completely new and unseen before now. Add in the "shocking consistency claim" and how it's so easy for anyone to do. It sounds like a bunch of hype.
The system provides you with a "done-for-you website" that uses these interactive robots to communicate with visitors giving you an auto pilot website that sells for you without showing your face.
When a person visits, an artificial robot will chat with the visitor to gain some information on a Clickbank product they would be interested in. The questions are pre-programmed. As the visitor, you have choices for answers to choose from as a reply. Based on your responses to the questions depends on the recommended product for you.
If someone makes a purchase you will get a commission up to 75% of the sale.
How Does Auto Chat Profits Work?
Once you sign up it takes three simple steps and 14 clicks to build your done-for-you website loaded with "revolutionary" robot technology to make the sales for you.
Step 1- You sign up for a free Clickbank account. This is where you will receive your payments from different products your website sells. So you will have to provide personal information(Name, Address, etc…) and your banking information to promote and receive commissions. After you sign up for an account you will receive a Clickbank ID to provide so they know who is making the sales.
Step 2- You will create a domain for your website. Instead of coming up with your own name, however,  you get a few names recommended to choose from.
Step 3– The Last step is to pick an email provider. One of the goals of your website is collecting emails to keep promoting products to them well after they made their first purchase with your affiliate links. Auto Chat Profits recommends GetResponse which is a popular choice among marketers. This is separate from ACP and will cost $15 a month to start. As a recommended product, ACP is affiliated with them and will earn themselves a commission every time someone signs up through their link.
After you complete the three steps your website will be created. Afterwards, there are a few training videos that will show you how to set everything up including how you will drive traffic to your website.
Cost of Auto Chats Profits
ACP isn't as free as they make it seem. Which we will go over now.
The Front End Offer
Auto Chat Profits Software-$37
Samantha advertises that you are receiving the system 100% free, but this isn't completely true. They require a "small" fee for hosting your website on their server. If you stay on the sales page long enough or try to exit, but change your mind, to reel you in they will waive this fee and give you a 14 day free trial. Afterwards it's $7 a month.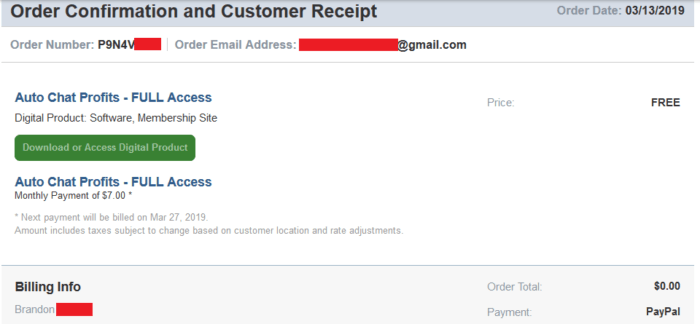 This product is the software that after about 6 minutes and 14 clicks you will have a "chatbot" website. The website is integrated with Clickbank and your email service provider.
Upsells
#1. ACP Faster Profits-$197
This will provide you with a custom made "Chatbot" website with:
Articles
Sales Video
Product Reviews
#2. ACP Double Your Profits Site- $187
This will provide you with a custom made "Chatbot" website in a different niche with:
Articles
Sales Video
Product Reviews
#3. ACP Traffic Tsunami- $97
This product includes basic and advanced traffic strategies
Monthly Cost
Hosting– $7 a month
GetResponse Email Provider- $15 a month and up
Solo Ads- Will cost hundreds of dollars and up
Total Cost of Purchasing Everything
If you add everything together, you are looking at a one time payment of $518 plus the monthly cost which will vary depending on how much you spend on Solo Ads. While you don't need to purchase all the upsells to make money, It does show you that ACP isn't as free as it seems. You're also not receiving "Full Access" like advertised.
Red Flags
While it's possible to make money with ACP there are a lot of red flags I see with Auto Chat Profits. So let's go over them.
#1. Not Customizable
When it comes to the domain name or website your only choice is to use what they provide you with. This means every website looks exactly the same. Google and other search engines are not fans of cookie cutter websites. This prevents you from ranking in the search engines.
You are losing out on a huge source of traffic. So how are you suppose to drive traffic to your website?
Plus the website you do receive isn't exactly the best looking…
#2. Solo Ads
Feeding off of #1, without ranking in Google your only other option is Solo Ads. This means paying for traffic without any guarantee any fish will bite at your offer. Basically you are paying someone else with an email list to promote your offer to them. You have to remember, all these people on someone's Solo Ads email list is constantly getting bombarded with offers everyday. This makes the traffic very cold. With you just selling, it's hard to add a personal element to warm them up to you.
It's also not the most ethical way to promote your products. You didn't ask these people for permission before you started emailing them. This means you are spamming them ,as well as many other marketers doing the same, with offers they may not even be interested in. There's a spam box in your Gmail account for a reason.
Then there's also the fact that there are many out there that use bots to send you clicks making it harder to know who to trust. Use the wrong person and you could end up spending $100's of dollars before ever making any money.
#3. No Control
You don't own the website, you don't own the domain, and you can't control the products that are being promoted to people that visit your website. Clickbank is known for a lot of either low-quality products or borderline scammy products (especially in the MMO niche). So you have the ethical side of things where you wonder,"Am I promoting a legitimate product or a scam?".
Then you have the fact that if Auto Chat profits decides to close down, your income will fall to zero overnight. Worrying about if your business will exist the next day isn't a great feeling to have. What do you do next? How do you keep making money? You'll have to start from scratch and relearn everything.
You need to have a sustainable business that you can completely control. Think about all the Instagram models that have created huge followings and make money. If Instagram closed down all those models would have nothing as well.
This is why I learned how to build my own website. So I have my own platform to promote on. I choose the design. I choose the content. I choose the products to promote. If a product disappears, I can just switch it with another product in my niche to promote. So I don't have those fears.
I sold a website for $12,500 because I wasn't interested in the niche anymore, and wanted to focus on other projects. I was able to do this on my own terms. Don't you want to control the terms as well?
#4. False Income Claims
Auto Chats Profit just came out this year. 2019. Yet, all the proof of income being shown in the website is showing income from the years before. Which you can see in the screen shot above.
On top of that, it's not even affiliate income they show. They are showing you the money they have made as a Clickbank vendor selling products they themselves have created in the past. You can see that in the picture below. It's hard to trust someone when they are not showing you income made from using the actual product.


Who Is Auto Chats Profits For?
I don't believe ACP is for anyone. Without any control you can't rely on them as a long-term source of income. Even if you do very well in the beginning, you will eventually fall off the mountain. With no face to the product and all the hype about making tons of money with deceiving income proof, they are not very trustworthy in my opinion.
Pros and Cons of Auto Chat Profits
Every product has their pros and cons of using them. It's up for you to decide if the pros outweigh the cons. So let's take a look.
Pros
Product is as advertised
Relatively Cheap to start
Potential to earn good income
Cons
False income claims
You don't own the website
No control over website or offers
Have to use Solo Ads
Is Auto Chat Profits a scam?
In one sense Auto Chat Profits is not a scam. When you minus all the hype, they deliver exactly what they show you with a "chatbot" website. You see what's inside before you ever make the purchase.
However, a scam is defined by you deceiving someone, And there's a lot of deceit in the income proof that's shown. It's not as easy to make money with them as they claim, and it's not actually your website.
You're basically being handed a landing page that they own. It's still up to you to drive traffic. The people you are targeting are buried under a pile of other spam offers they didn't ask for. It can cost a lot of money for you to dig as deep as they are before you get them to your offer.
Purchase all the upsells and you're already in the hole over $511 before you start your Solo Ad campaign.
This is a recipe for disaster for a lot of newbies, and will leave many very unsatisfied with their purchase.
Final Thoughts
Even though they claim you are getting a free system you can end up spend hundreds of dollars on the system itself and even more once you start your Solo Ad campaign. The income claims are fake and deceitful and Affiliate marketing isn't a new "exploitive" industry like Samantha claims in her videos.
Can you make money with them? Sure, most scams there are a few people making money with them, but it's not going to last long. And it's going to require more than "23 minutes a day" to make good money unlike what is stated in the video.
If you dream of becoming your own boss, running your own business or website, and want to have complete control of the domain, website, and products offered. Then I recommend you check out the online affiliate marketing training program that has allowed me to travel the world over this past year. The best part is you can get started for free!
Have you used Auto Chat Profits? Let me know your thoughts in the comments!