November 13, 2015
Is Uber A Scam?- Well, I Drive For Them


Uber has been around since March of 2009. In that time, they have grown from having a no name to becoming a $50 billion dollar company.In many places, like San Francisco, Houston, Los Angeles, and even many other countries, Uber has become a household name growing faster than Google did in the late 90's and early 2000's.
Even with the growing capacity, there are many people that question Uber. Are they legitimate? Are they a scam? Do they even deserve to be around?
You here people all the time, on the news, talking either highly of them or down right bad. Well, today I want to clear the air for drivers and riders alike. I will make this statement right now, however. Uber is not a scam, and I personally drive for them and have also used them myself as a customer.
What Is Uber?
Uber operates in 65 different countries today. Some of the big names would be the U.S, Canada, England, France, Germany, China, and so many more. As of today, Uber operates in at least 25 different U.S. states, and every day they are expanding into more and more markets.
Even still, however, there are many people that have no clue what Uber is. All the time I pick people up and they will tell me how it's there first time using the service or how they never heard about it until a few days ago.
Basically, Uber is a taxi service, referred as a ride-share company, that has normal everyday people like me or you picking up and dropping off people at different destinations. They were founded in San Francisco, California by two guys named Travis Kalanick and Garrett Camp.
How Does Uber Work?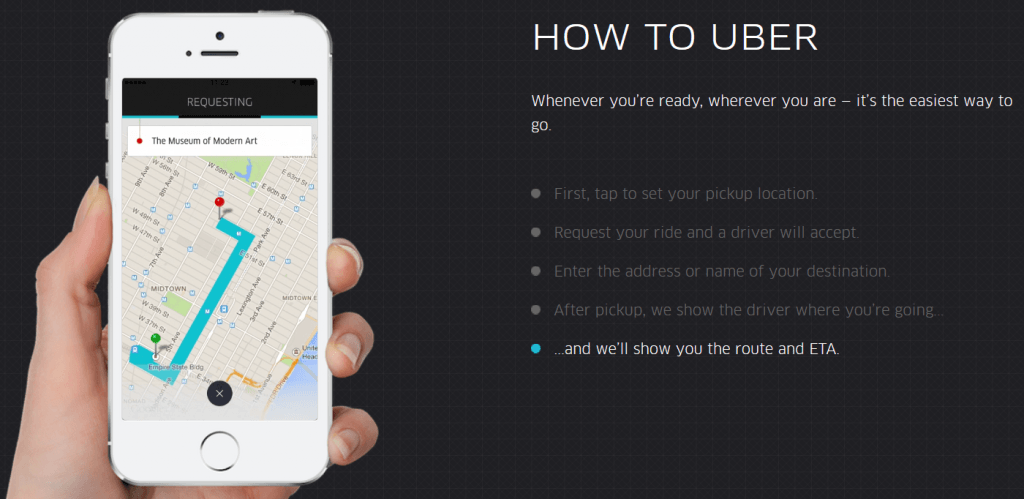 Even though you can never say anything is 100% safe; even a seeded cherry you have a chance of choking on every time you eat one if you aren't careful. I can say that Uber is just as safe as taking an actual taxi.
How it works is everything is done through the Uber app. The riders will put in there credit card information, name, phone number, etc… So that way the Uber driver knows who they are picking up.
All the transactions are done through the app. So a driver never has to worry about collecting cash, and a passenger has to ever worry about paying at the end of the trip.
Before you request for an Uber ride, you will put in your location and have the option to put in your destination so you can get an estimate of what the fare will be.
From my experience, the estimate has always been accurate, but I'm sure there are times where it wasn't because of maybe an accident happening on the path you take to reach your destination.
You can check out my Uber website here to learn how to become an uber driver.
Where Can You Get An Uber Ride?


A Majority of major cities have the option to use Uber, and there are many suburbs around the area that has Uber as well. You can check your area by going through the Uber website. Although Uber isn't everywhere, they are constantly trying to expand into more markets.
Cost Of Uber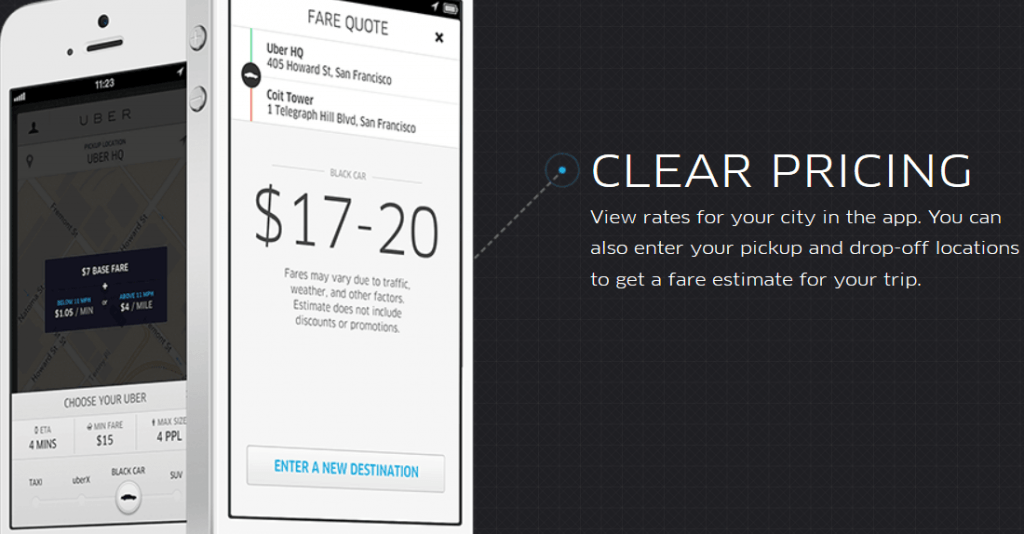 Really it depends where you are. It can vary depending on how long the ride takes, your location, and where your destination is. But, once again, this is why you will get a fare estimate before you actually take an Uber ride.
Surge Pricing
I'm sure you have heard of supply and demand. When there's a lot of supply and not very much demand, the price is cheaper. When there is a lot of demand and not much supply, the price is more expensive.
This is what happens with Surge Pricing. During the peak hours, and holidays where there's a lot of people requesting a ride, but not many Uber drivers, The price goes up to help with this.
Uber does let you know when there's surge pricing going on and tells you how high it is. You always have the option to get notified, when Surge pricing ends and can choose to get picked up after so you are not paying extra money than what's needed.
Overall, using Uber is cheaper than a taxi, and the car usually smells better because it's people's personal vehicle that's being used. And they tend to upkeep it better than a taxi driver.
I myself, do weekly car washes to keep the appearance looking nice for the customers.
How Long Does It Take To Get A Ride?


You don't have call, and you get an estimated time of arrival when you are requesting for a ride. From what I have noticed, it doesn't take more than 15-20 minutes to be picked up and usually can happens within minutes of requesting for a ride.
Whoever is the closest Uber driver is the first one to receive your request for a pick up. For the most part, you will get an Uber ride before a taxi shows up. Between trying to hail for one and/or calling for one. It just takes more time to get a taxi ride.
Uber Has Done A Lot For The Community
The job economy has been tough, especially in recent years. A lot of people getting laid off or having trouble finding work. Because of this Uber has been able to create thousands of jobs for the lower class people that have a car, and has also asked for donations to help support different charity groups.
The most recent was asking for donations on Veterans day to help homeless vets find jobs, and receive housing and food.
Not only that, I have read in past articles that cities with Uber have managed to lower DUI's (driving under the influence) by 10%. This means they are keeping more drunk people off the road, which is saving potential lives that could've been lost if Uber wasn't around.
On top of that, Uber is cheaper than an actual taxi, for the most part. This makes it more affordable for the lower income people to be able to get home safely.
How Uber Hires Drivers


In order to drive for Uber you have to go through a background check, Drivers License check, give your information like social security, name, and address, get a vehicle inspection, etc… This helps make sure Uber are hiring safe drivers with a safe vehicle.
Although states will vary, for the most part your vehicle has to be 2000 or newer. Although, in some states you are required to have a 2006 or newer vehicle. You will have to check with your state to make sure you meet the requirements.
You also have to be 21 years old or higher and be able to provide proof of insurance to drive for Uber.
Uber does have there own million dollar insurance policy to cover passengers if an accident were to happen while in an Uber vehicle. If you want to become an Uber driver yourself, you can sign up through my link, and you will receive $300 after you complete your first 20 trips.
How Much Can You Make Doing Uber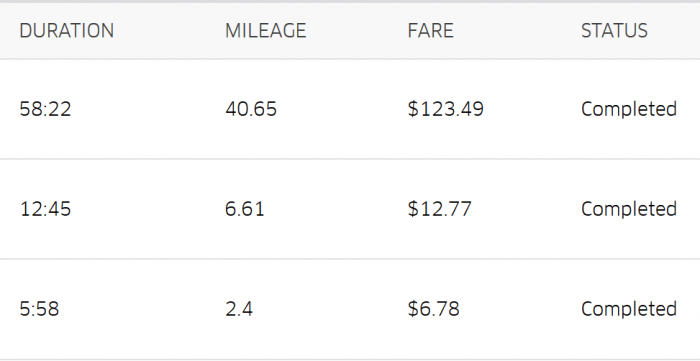 Honestly, I can not say because it varies. It depends where you live, whether or not you drive during the peak hours, and how long you drive for. I myself have been able to make, I would say on average $20+ an hour. There are times where I have made up to $40 an hour driving during the busy times.
If you want to try it out, I would recommend doing it part time on the weekends to start to see how well you're doing before deciding to make it your full time job. Of course, if you don't have a job, this is a great recommendation while you are looking for another job.
Pros VS Cons Of Driving With Uber
Even if you found your dream job, there are always pros and cons to the opportunity. While I am not rich yet, while I build my online business I use Uber to pay for all my expenses. And I do live by myself, so I have rent, food, gas, etc… that I have to pay for by myself without any help.
Pros
Flexibility is one of the biggest reasons someone will take a job. Uber allows you to work anytime you want, day or night. It's a 24/7/365 service.
If done right, you can make some really good money. Just the $300 sign up bonus, is worth at least taking the first 20 trips.
You are your own boss. Nobody tells you what to do except you, and how can you go wrong with that?
You meet new people, which many are very joyous to talk too
Even though it may just be in your local area, you do get to see more of thee city that you haven't seen before. I love traveling, so this is a big perk for me
You make $300 every time you refer someone else to drive for Uber
Cons
You pay for your own gas and car maintenance
You drive your personal vehicle
You have to pay for your own insurance
Not many tips
Even though there are some cons to Uber, for the most part it's a great opportunity to make money. Even the cons aren't terrible because you can use them as tax deductions at the end of the year.
I have a car payment. That's a tax deduction for me. Plus all the miles, maintenance, and gas I use is a tax deduction as well.
As far as the tips go, even though it's not great it's not terrible. you get about 70%-80% of the fare which makes up for not getting many tips. the only time you do get tips is if it's in cash. So, I would recommend carrying maybe $20 in 1's and 5's just in case someone wants to give you a tip but needs change back.
Uber Review Conclusion
Like I said, I personally drive for Uber. This is why I can say with much confidence; Uber is not a scam. Many people will get mad about the surge pricing or the drivers mad about the maintenance, but you are told this stuff before you ever request a ride and before you ever decide to drive for Uber.
You can't hate on Uber for stuff they tell you ahead of time and that's the biggest problem people have with the company. They act surprised when they were already made aware about this information.
I love driving for Uber because I can work whenever, it gives me time to hang out with family when I need it, I can take a vacation whenever, and I can build my online business while supplementing my income with Uber.
If you are in need of a job or just want to make some quick cash, sign up for Uber here, and you will get up to a $300 bonus once you take your first 20 trips. Even if you don't want to do it full time, you can still make some good money right away.
If you are trying to find another way to work from home then check my review about a program that taught me how to build your own business online.
Questions And Concerns
What are your thoughts about Uber? Have you had a good or bad experience? Was it as a rider or a driver? Please leave your comments below. I would love to hear from you.